Operating margin of 9% due to battery boom
Technological gap... profitability differentiation
Promotion of production of all-solid-state batteries and 46 pi
Cooperation with Tesla, Hyundai Motor, and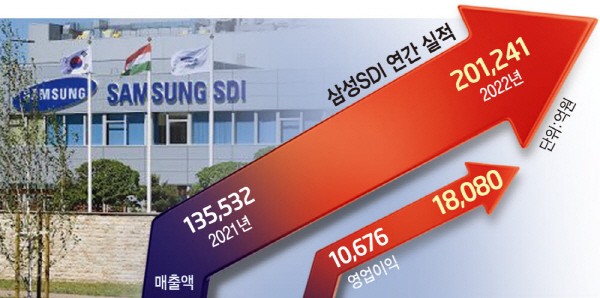 Samsung SDI set a new record. Last year, it broke the record for highest sales and operating profit. Samsung SDI's success was due to the booming EV battery market; however it is noteworthy to see the profitability in differentiated technology from competitors. It is interpreted as technological prowess and market influence contributed to margin improvement.

On the 30th, Samsung SDI announced that it achieved sales of KRW 20.1241 trillion and operating profit of KRW 1.808 trillion last year. Compared to the previous year, sales and operating profit increased by 48.5% and 69.4%, respectively. Both sales and operating profit are at its all-time highs, and the operating margin reached 9%.

Samsung SDI's operating profit exceeded KRW 1 trillion for two consecutive years. After achieving KRW 1.676 trillion in 2021, operating profit increased significantly to KRW 1.8 trillion last year during the global economic recession began.

Excluding the electronic materials business, the battery division's operating margin is 7.1%, which is a significant increase from 4.9% in the previous year. This value is a fairly high in the domestic battery industry. Other domestic battery manufacturers' operating margins were below 5%. It was predicted that the sales growth was due to the explosive growth of the EV market; however, Samsung SDI achieved external growth while maintaining profitability, unlike other battery manufacturers. This is the first time Samsung SDI's sales have exceeded KRW 20 trillion.

The electronic materials business continued to grow evenly and its operating margin was 21.7%. By expanding sales of high value-added electronic materials such as ultra-fine processes and polarizing film products, and by diversifying its global customers, Samsung SDI was able to continued its qualitative growth.

The company predicted that the booming trend of EV batteries would continue this year as well.

During a performance conference call, Michael Son, vice president of Samsung SDI, said, "Despite economic uncertainties such as the global economic downturn, high interest rates, and a drop in the unit price of EVs, we are expanding EV sales due to the electrification policy of global finished vehicles. Demand for EV batteries will increase by 40% this year compared to the previous year's, and profitability will continue to improve through the expansion of the second battery plant in Hungary and joint ventures with global automakers in North America"

The EV battery market penetration rate is expected to increase as well. The company stated that the demand for Gen5, a high value-added product, is increasing this year from major EV customers such as BMW, Volvo, and Volkswagen, and plans to supply new products to new customers such as Stellantis.

Samsung SDI announced that it will also enhance the development of next-generation EV battery products. The strategy is to maximize profitability for EV batteries by promoting production of pilot products for all-solid-state batteries and next-generation cylindrical batteries (46 Pi). An official from Samsung SDI said, "We plan to set up a 46-pi production line in the first half of this year and produce prototypes on the all-solid-state battery line." Cooperation among new finished car manufacturers such as Tesla, Hyundai Motors, and General Motors is under the spotlight with next-generation EV batteries.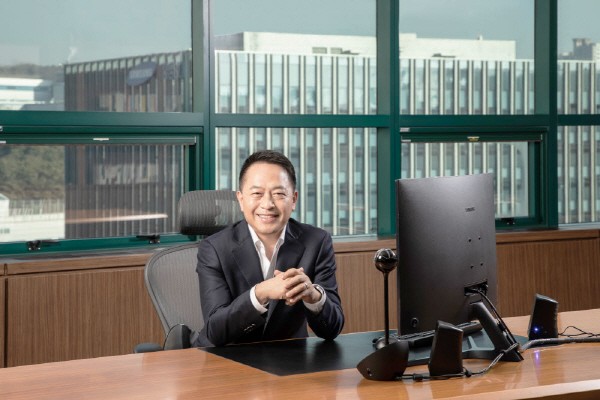 Yoonho Choi, CEO of Samsung SDI, said, "We achieved the record-high performance while achieving our management goals last year. By implementing our business strategy this year successfully, we will do our best to accelerate the qualitative growth of our profitability advantage based on super-gap technological competitiveness and securing the world's best quality."

Reporter Jiwoong Kim (jw0316@etnews.com)