Partnering with e& Group's SI subsidiary
After acquiring a local MSP company in 2019
Secured 150 clients including government-owned companies
Strengthening influence in the Middle East through JV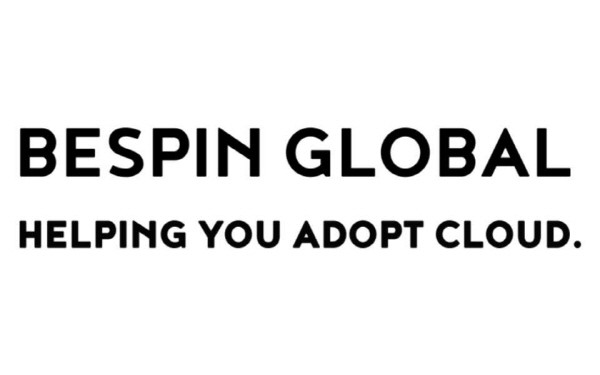 Bespin Global and e& Enterprise established a cloud joint venture (JV), 'Bespin Global MEA-e&Enterprise Company'. The paperwork will be done within next month. It is the first time that a Korean cloud company has established a joint venture in the Middle East.

e& Group is the No. 1 mobile carrier in the United Arab Emirates (UAE). It provides telecommunications services to 16 countries across the Middle East, Asia and Africa. It is also a company that jointly promotes the metaverse business with SK Telecom. e& Enterprise is a system integration (SI) subsidiary of e& Group.

The first CEO will be Mouteih Chaghlil, CEO of Bespin Global MEA. The headquarters of the joint venture will be located in the existing Bespin Global MEA office located in Al Reem Island, Abu Dhabi. They will be active in major countries where e& Group provides telecommunication services, such as UAE, Saudi Arabia, Africa, and Pakistan.

e& Enterprise, which has a high understanding of the Middle East market, will develop a business model, and based on this, Bespin Global is planning to implement cloud services that are optimally tailored to the needs of customers in the Middle East.

Bespin Global attracted about 140 billion KRW in investment from e& Enterprise last year. e& Enterprises, as a partner of the UAE government corporation, decided to invest based on deep trust in Bespin Global.

Bespin Global acquired the local cloud MSP 'Falcon 9' in 2019 and established Bespin Global MEA, a corporation in the Middle East and Africa, to continue targeting the Middle East.

About 140 employees are working at Bespin Global MEA. It has offices in Abu Dhabi and Dubai, UAE, and Riyadh, Saudi Arabia. Bespin Global MEA has the first and largest integrated cloud operation center in the United Arab Emirates.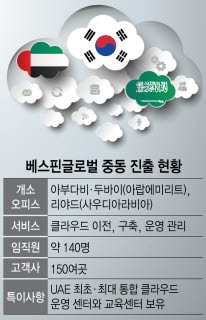 Bespin Global MEA recently exceeded 150 customers. Major clients include 'Jarir', the largest book store in the Middle East, 'ADNOC' and 'ENOC', government oil companies, Dubai Chamber of Commerce, and 'DUBI Cars', the largest used car trading platform in the Middle East.

The Middle East cloud market is a fast-growing emerging market driven by public sector investment. Demand for digital infrastructure in the Middle East has increased significantly as large-scale events such as the Dubai Expo and the Qatar World Cup last year. The government continues to expand investment at the national level to establish a digital government system and develop related information technology (IT) infrastructure.

The Middle East, which does not have a cloud service provider (CSP) in their own countries, use global CSP such as AWS, MS, and Google Cloud, so there is a demand for Korean MSP with related construction and operation technologies.

It is also a good thing for Korean companies that they are wary of adopting US and Chinese technologies due to dependency and political issues. For political reasons, such as the recent US-Saudi Arabia conflict following the hegemony battle between the US and China, Korean companies, the third route, are being considered as an option.

Han-joo Lee, CEO of Bespin Global, said, "Bespin Global has been operating in the Middle East for the past five years, proving our cloud technology and building a solid local network. The establishment of this joint venture with e& Enterprise is the first step towards a greater leap."

By Staff Reporter Hye-mi Kwon (hyeming@etnews.com)