JS Energy, a subsidiary of China's secondary battery material company, Ronbay, is beginning the full-fledged start of its cathode material factory in Chungju.

Sangyeol Yoo, the executive director of JS Energy, said that, "Cathode materials for EV batteries are planned to begin shipping from the Chungju factory in the 1st quarter," and said that, "Starting with overseas battery companies, we will begin shipping high-nickel cathode materials to Korean battery manufacturers as well."

Starting construction in 2021, JS Energy completed the construction of its cathode material factory in Chungju last year. This was done to respond to the rising demand of cathode materials resulting from the growing EV market. Though it is a Chinese company, it entered Korea directly as 3 Korean battery companies, LG Energy Solution, Samsung SDI, and SK on, began to stand out in the global EV market. It also aims to expand transactions with Korean battery companies and disperse regulatory risks caused by US-China conflicts.

Ronbay, the Chinese parent company of JS Energy, occupies the no.1 spot in China for the field of high-efficiency high-nickel NCM (nickel, cobalt, manganese) cathode materials for cars. In addition to cathode materials, they also produce precursors, and was listed on China's Shanghai Stock Exchange in 2019. JS Energy plans to promote expansion centered around the Chunju factory. They will invest 600 billion KRW by 2025 to possess a production capacity totaling 70,000 tons annually. This year, they plan on expanding their production capacity three-fold, from 20,000 tons to 60,000 tons.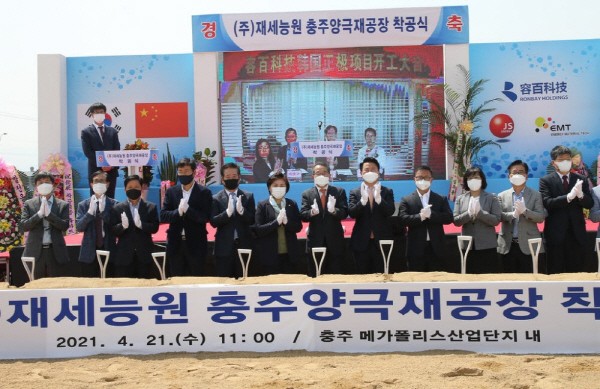 By Staff Reporter Jiwoong Kim (jw0316@etnews.com)