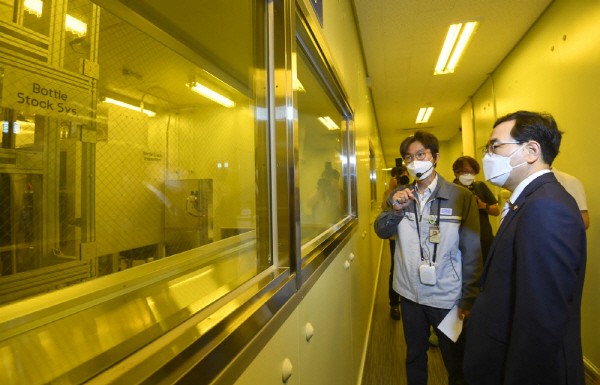 Samsung Electronics has succeeded in localizing or substituting 2019's three major export regulated items of Japan, such as EUV PR, hydrogen fluoride, and fluorinated polyimide, while using Dongjin Semichem's extreme ultraviolet photoresist (EUV PR) for mass production. This is a result of joint efforts by the government and the company to reduce the dependence on key semiconductor and display material imports, and to stabilize the supply chain. A cooperation between companies supplying materials, parts, and equipment and companies demanding semiconductor and display was particularly effective.

The Ministry of Trade, Industry and Energy announced that its dependence on one of Japan's three major export regulated items for EUV PR, one of, had fallen by less than 50% in February. Efforts such as changing to Belgian EUV PR imports played a part. When Japan's export regulations began in full effect in 2019, Samsung Electronics attempted to stabilize its supply chain by increasing the proportion of imports from other countries. It was understood that Chairman of Samsung Electronics, Jae-yong Lee, personally took care of EUV PR supply and demand during the time. The company was able to significantly reduce dependence on Japan, which reached up to 90%, but the development of domestic EUV PR was just in its infancy. Samsung Electronics succeeded in commercializing Dongjin Semichem's EUV PR this year by applying it to mass production.

The localization of hydrogen fluoride was swift. Soulbrain developed high-purity hydrogen fluoride in January 2020, and it is understood that it is currently being supplied to Samsung Electronics. When the news of Soulbrain's hydrogen fluoride development was announced, Japan resumed exports to Korea. Hydrogen fluoride has been successfully developed by SK Materials, Ram Technology, and ENF Technology currently, and some products are being used for mass production by semiconductor manufacturers. Hydrogen fluoride imports fell by 66% from $36.3 million in 2019 to $12.5 million last year according to the Ministry of Industry.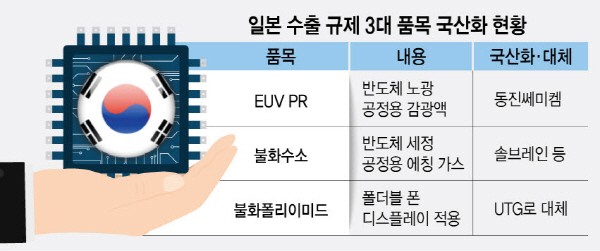 Fluorinated polyimide used in foldable phone displays has been replaced with ultra-thin glass (UTG). Considering performance and stability, Samsung Electronics applied UTG instead of fluorinated polyimide to foldable phones. It almost became meaningless to have demand for fluorinated polyimide.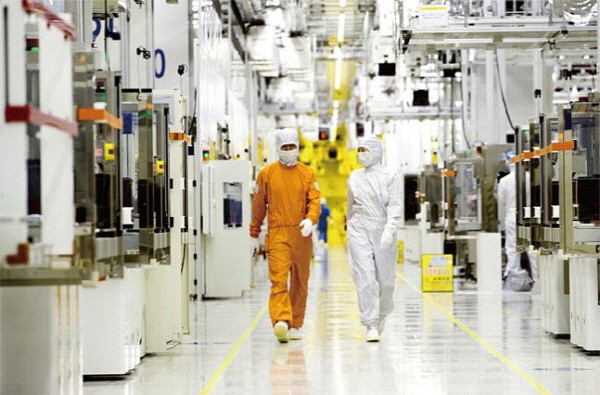 The successful localization was possible due to a solid cooperation between both supply and demand companies. Semiconductor manufacturers such as Samsung Electronics actively supported the development of key materials. EUV PR and hydrogen fluoride development from Dongjin Semichem and Soulbrain would not have been possible without collaboration with companies that demanded them since these companies do not have their own infrastructure for quality testing and reliability verification. An industry insider said, "There is a limit to developing key semiconductor materials with domestic R&D infrastructures in universities and public institutions. It is difficult to develop commercial products unless companies that demand the products, such as Samsung Electronics and SK Hynix, without testing the products on actual mass production lines."

Despite making significant achievement in the localization of materials, parts, and equipment after Japan's export regulations, there are still many hurdles to overcome. There are still not many domestic products that are being used. It is also a challenge to radically reorganize the existing supply chain of semiconductor manufacturers. However, this situation will change and contribute in stabilizing the supply chain as major overseas materials, parts and equipment companies are preparing their production bases in Korea where their customers are located.

By Staff Reporter Dong-joon Kwon (djkwon@etnews.com)