SKC will enhance its competitiveness in its main businesses, such as secondary battery, semiconductor, and eco-friendly materials business, through active M&A and R&D investment.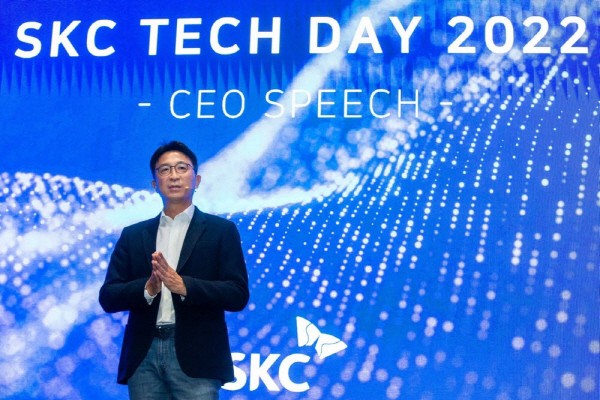 On the 23rd, SKC held 'SKC Tech Day 2022' at the Grand Walkerhill Hotel in Gwangjin-gu, Seoul, and revealed a blueprint for future business.SKC Tech Day is an event that introduces SKC's technology roadmap and commercialization progress targeting analysts and institutional investors.

SKC CEO Woncheol Park said during the keynote presentation, "Through global expansion and technological superiority, SKC will provide optimal products and solutions in the fields of secondary batteries, semiconductors, and eco-friendly materials." SKC shared the process of innovating the business model by adding the technology it secured through M&A, R&D, and collaboration, and revealed its plans for future expansion.

The world's No. 1 technology in SKC's copper foil business is a result of synergy effect between its existing film manufacturing know-hows and copper foil manufacturing technology secured through the acquisition of SK nexilis. A key material for the semiconductor front-end process, chemical mechanical polishing (CMP) pad, that SKC solmics began to localize is a result of applying related technologies developed in its own R&D to the existing polyurethane synthesis technology. SKC further expands its core technologies through active M&A and R&D.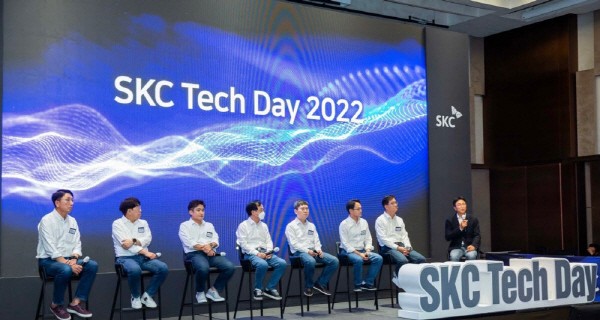 SKC selected △secondary batteries (copper foil, silicon anode materials) △semiconductors (glass substrate, CMP pad, blank mask) △eco-friendly materials (PBAT, PG, polyurethane) as core businesses of the future.

SKC will begin to construct a silicon anode material production facility next year, which will considered a key material for future secondary batteries. It has also secured exclusive business rights for new technologies with the investment from British technology company Nexeon,

Absolix is a semiconductor glass substrate subsidiary that recently started construction of production facilities in the United States. It has completed standardization of more than 200 special processes for embedding passive elements such as multilayer ceramic capacitors (MLCC) on substrates.SKC Solmics announced next-generation technology that extends the lifespan of its products and lowers processing errors to improve customer productivity, and hoped to expand its share in the CMP pad and blank mask market dominated by foreign companies.
CEO Park said, "We will pursue sustainable growth through big portfolio changes and expand our R&D capabilities to secure an overwhelming technological gap. Having the global environmental, social, and governance (ESG) management background, we will become a ESG material solution company."

By Reporter Yoon-seop Song (sys@etnews.com)