Cloud · AI · Big Data Technology
Spotlight on Data Center · Policy Establishment
Digital Government Center Widens Supporting Fields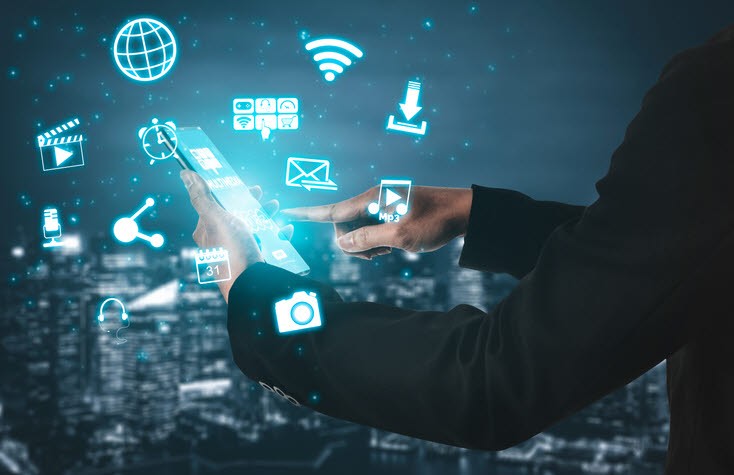 National Information Technology (IT), such as cloud, Artificial Intelligence (AI), big data, etc., are receiving the spotlight in the public sectors of developing nations. This resulted in a complex combination of internal factors such as the advanced IT capabilities of Korea, the experience of having constructed various public systems etc., and the external factors such as not wanting to implement American · Chinese technology. Attention is focusing on whether the past 'e-government' Korean Wave can be reproduced as the 'Public IT' Korean Wave.
The government data center construction project that will be carried forward by Korea and Indonesia, will be ordered next year. The main goal is to build a main center and a backup center at the scale of 180 billion won.

The company is in the midst of writing up requests for proposals (RFP), including detailed design, based on the design completed by Moon Engineering, a company that specializes in IT consulting. This is expected to be an opportunity to pass down domestic cases, aiming towards Software-Defined Data Centers (SDDC) and cloud data centers.

The project is a loan project from the Export-Import Bank of Korea in cooperation with the Ministry of Interior and Safety, the Ministry of Economy and Finance, the Ministry of Foreign Affairs, and the National Information Society Agency (NIA). After the construction, the operating costs will be supported through the Official Development Assistance (ODA). There are plans to discuss ways to additionally implement Software (SW) including AI and big data.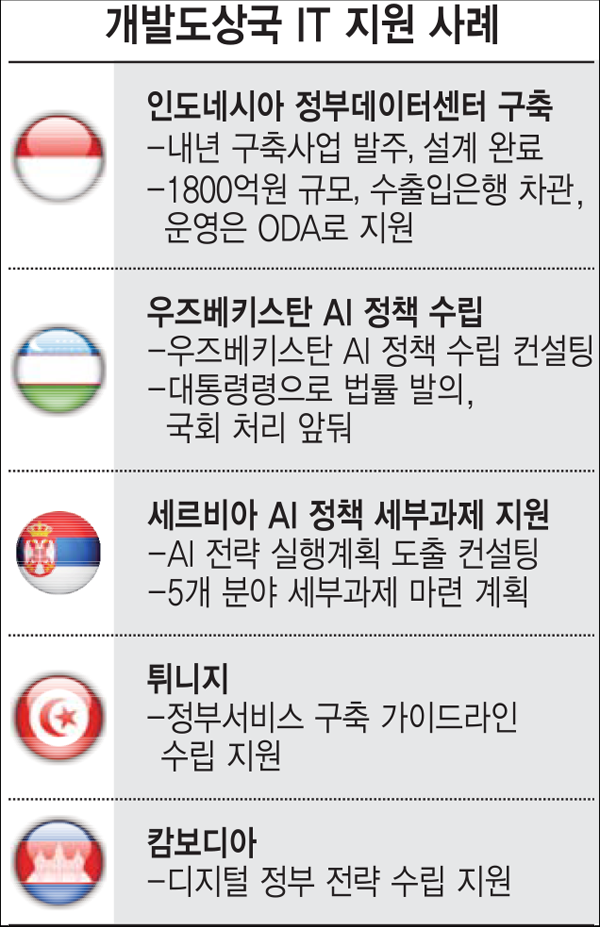 An NIA Specialist is in charge of consulting for the AI policy establishment project of the Uzbekistan government. The Uzbekistan government has set the national informatization strategy by law, so the AI policy has also been proposed as a presidential decree, waiting to be processed by the National Assembly.

In Serbia, after formulating an AI strategy, a Korean specialist is providing consulting in deriving an action plan. Detailed projects are being prepared in 5 different fields. Through a joint project with the World Bank, Serbia has implemented Korea's document management system in the past.

Korea also supported the establishment of the government service construction guidelines announced in March this year by Tunisia as well as the digital government establishment strategy of Cambodia. NIA specialists are already dispatched for not only the AI Education in Tunisia and Cambodia, but also for the AI policy establishment.

Jae-Ho Lee, the director of NIA's Global Cooperation Headquarters said, "Developing nations are reluctant to collaborate with the U.S. or China due to security concerns or technological dependency. As the cooperation with Korea, which has proven technology, is strengthened, we will expand our areas of support through the digital government cooperation centers established in each country."

The 'Korea-Malaysia IT Cooperation Project' promoted by the NIA with Malaysia is a representative case of such perception in developing nations.

The Malaysian Ministry of Communications and Multimedia exchanged a Memorandum of Understanding (MOU) with the Korean Ministry of Science and ICT, and promoted joint cooperation projects in the field of AI-based smart farm from 2020 to this year. Initially global cloud services were used, but starting from this year, services and data were transferred to domestic cloud platforms.

The cooperation with the governments of developing nations raises the status of IT Korean Wave, and an increase in opportunities for the global expansion of domestic corporations in AI or cloud can be expected. As more systems are built based on domestic IT, and data utilization increases, it may have a positive effect on the downstream industries such as the increase in demand for the Korea's memory semiconductors.

Director Lee said, "Since it's not easy for domestic IT companies to enter the overseas government projects independently, we will expand the way, such as entering alongside government projects or the Official Development Assistance (ODA)"

Reporter Ho-Cheon An hcan@etnews.com