Reorganization of production bases... Risk diversification
Gumi factory takes role as 'mother factory'
To become a flagship model control tower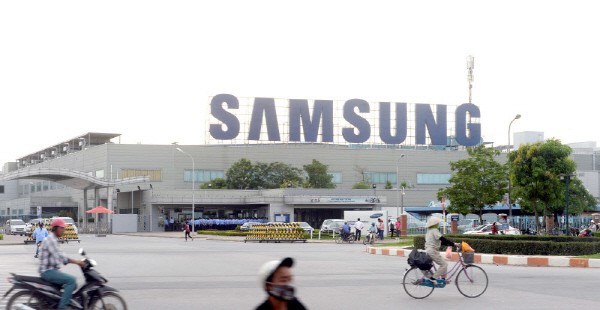 Samsung Electronics plans to reduce the proportion of smartphone production in their Vietnam factory to the mid-40s next year. The company disperses the risk by reorganizing the production base, which was more than 50% concentrated in Vietnam. It will maintain the Korean domestic production system for flagship products such as foldable smartphones and Galaxy S and strengthen its role as a 'mother factory'. Samsung Electronics has established a plan to produce 46% of its total mobile devices in Vietnam's Thai Nguyen and Bac Ninh provinces next year. Mobile devices include smartphones, tablet PCs, and feature phones. Smartphones account for 90% of the total. 32% will be produced in Thai Nguyen and 14% in Bac Ninh. This year, Samsung's smartphone production in Vietnam accounted for more than 50% of the total. Last year, it was around 60%. This figure will fall to the 40% range from next year.

The reason for reducing the proportion of Vietnam and distributing production around the world is to minimize damage in the event of uncontrollable external factors such as an epidemic. The goal is to create a system that enables rapid replacement production in other regions even if a specific factory is shut down. Samsung Electronics also recommended the diversification of production systems by global production plants to major suppliers.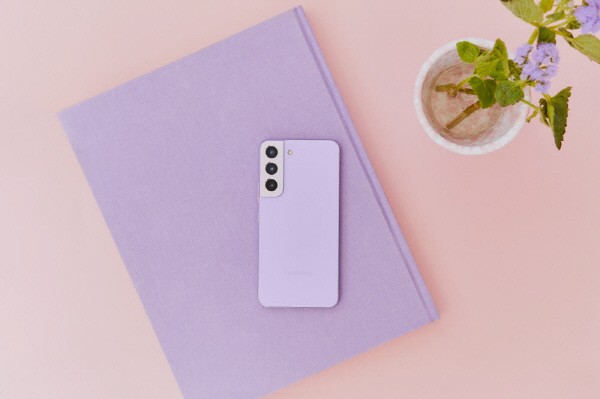 As smartphone shipments declined overall, the production rate for the Vietnam factory, which has the highest production capacity, naturally decreased as well. Samsung Electronics has recently been continuously lowering the utilization rate of its Vietnamese plant. Considering the global economic slowdown and weakening consumer sentiment, Samsung Electronics conservatively set its smartphone production target for next year at 300 million units or less.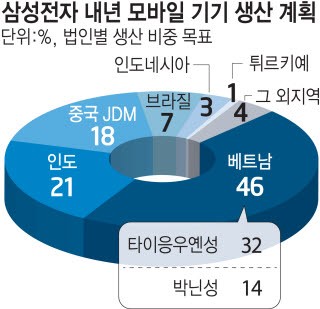 The reduced rate of Vietnam will be distributed to India, Indonesia, and Latin America. India is the second largest producer of smartphones. India accounts for 21%, Brazil (Manaus, Campinas) 7%, Indonesia 3%, and Turkey 1%. The Gumi plant is responsible for 3% of the total mobile volume and continues its role as the flagship production control tower. The Gumi plant, the only Samsung smartphone production base in Korea, is the 'mother factory' that proactively applies new process technologies and spreads them to global production bases. It oversees domestic shipments of flagship products such as foldable smartphones and Galaxy S. According to next year's production plan, the Gumi plant will produce its largest amount of production in January, when the next flagship smartphone, the Galaxy S23, is just around the corner, and in August, when the new foldable smartphone will be released.

China's joint development manufacturer (JDM) volume will also increase significantly. JDM refers to a method of consigning the production of products designed by Samsung to a partner company. Mostly low-end products are made in this way. Next year, JDM smartphones are expected to account for 18% of the total with 60 million units.

Reporter So-ra Park (srpark@etnews.com)