Samsung Electronics will start the mass-production of 5th generation (1b) 10-nano class DRAM next year. By reducing the size and improving performance compared to the current 4th generation, they will solidify their No. 1 position in the memory field. Samsung Electronics will also develop a 1000-layer NAND and provide an integrated system semiconductor solution by 2030.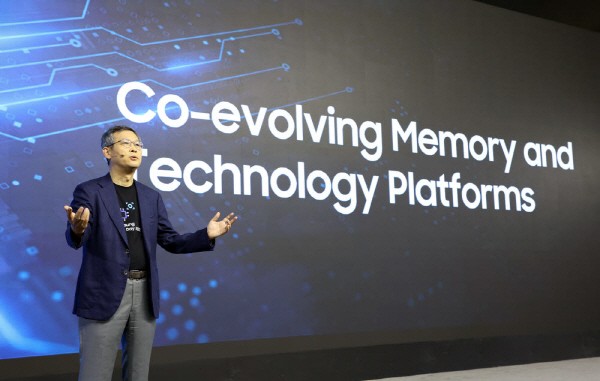 Samsung Electronics unveiled their next-generation semiconductor solution at 'Samsung Tech Day 2022' held in San Jose, USA on the 5th (local time).

Samsung Electronics has been presenting their semiconductor technology roadmap through Tech Day since 2017. This year's event was held offline for the first time in last three years since 2019.

At the system semiconductor session held in the morning, Samsung Electronics announced that they will be reborn as an integrated solution fabless. They will provide an integrated solution that meets customer needs by converging 900 portfolio technologies including System-on-Chip (SoC), image sensor, and display driving chip (DDI).

Samsung Electronics is also developing cutting edge system semiconductors with performance close to human functions. This is to respond to the era of the 4th industrial revolution that requires super intelligence, super connectivity, and super data. In order to achieve this, the performance of SoC intellectual property (IP) such as neural processing unit (NPU) and modem have to be improved.

They will collaborate with global partners to implement industry-leading central processing unit (CPU) and graphics processing unit (GPU) at the same time. They are also planning to develop an ultra-high-pixel image sensor close to the human eye and a sensor that detects and implements the five senses.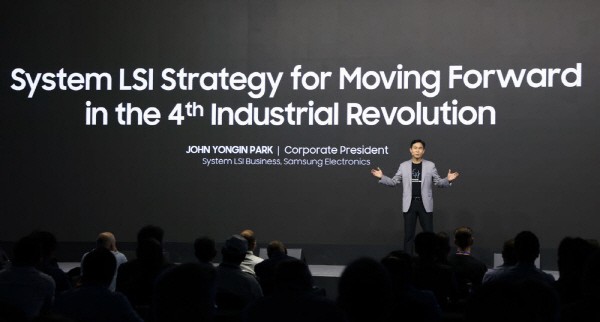 Yong-in Park, head of Samsung Electronics' System LSI business division(president), said, "In the era of the 4th industrial revolution, where objects have to learn and judge like humans, the importance of system semiconductors that play the roles of human brain, heart, neural network, and vision is greater than ever. Samsung Electronics will become an integrated solution fabless leading the era of the 4th industrial revolution by converging major technologies including SoC, image sensor, and DDI."

During memory semiconductor session in the afternoon, Samsung Electronics unveiled a roadmap for next-generation products such as DRAM and V-NAND and announced that they will mass-produce 5th generation (1b) 10-nano class DRAM next year. The industry estimates that 5th generation DRAM will be manufactured through 11~12nm process. Samsung Electronics plans to overcome the limitations of process miniaturization through new processes including High-k Metal Gate (HKMG) and next-generation product structures.

Among competitors, Micron Technology from the United States announced in May that they will mass-produce 5th generation 10-nano class DRAM at 'Investor Day'. Samsung Electronics is expected to secure competitiveness by securing yield and production capacity.

Samsung Electronics also announced plans to lead the premium DRAM market by launching next-generation products such as 32Gb DDR5 DRAM for data centers, 8.5Gbps LPDDR5X DRAM for mobile, and 36Gbps GDDR7 DRAM for graphics.

Samsung Electronics also unveiled the 8th generation V-NAND 512 TLC product, which improved the number of storage bit per unit area by 42% compared to the 7th generation during the event. TLC is a storing method that storing three pieces of information in one cell. Samsung Electronics will release the world's highest capacity 8th generation V-NAND based 1Tb TLC product within this year. They also presented a plan to mass-produce 9th generation V-NAND by 2024 and develop 1000-layer V-NAND by 2030.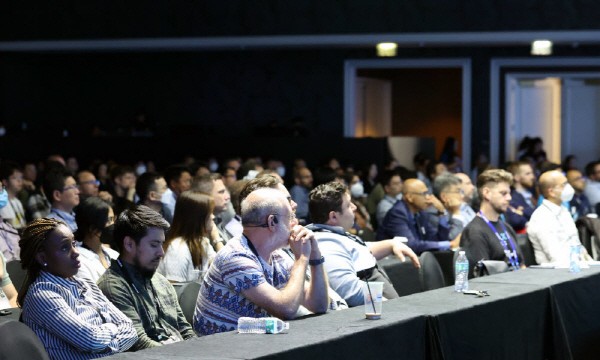 Samsung Electronics is expanding the QLC ecosystem with 4 information storage per cell to respond to the demand for large-capacity data including data centers and artificial intelligence (AI). It also improves power efficiency and contributes to eco-friendly management of customer companies.

Jung-bae Lee, head of Samsung Electronics' memory business division(president), said, "The total storage capacity of memory that Samsung Electronics has created over the past 40 years has exceeded 1 trillion GB, and half of them have been created in the past three years. This statistic makes us feel the digital transformation. We will evolve with various platforms through high-bandwidth, high-capacity, and high-efficiency memory."

Samsung Electronics also announced their goal of achieving No. 1 in the automotive memory market by 2025. They will provide optimal memory solutions including autonomous driving, advanced driver assistance systems (ADAS), and in-vehicle infotainment (IVI), while also providing next-generation solutions that meet the demand for high-performance memory such as LPDDR5X and GDDR7.

Samsung Electronics will open the 'Samsung Memory Research Center (SMRC)' for customers to develop and evaluate next-generation memory solutions and cooperate with Red Hat and Google Cloud. Starting in Korea in the 4th quarter of this year, SMRC will be expanded in the United States and other countries in order.

By Staff Reporter Yun-sub Song (sys@etnews.com)