Following Unit 4, line expansion for Unit 5 set for next year
The winning move in 'production expansion' through upfront investment
Annual production of 6000 tons… Maintaining World's No. 1 Status
On the 29th, in Gumi, Gyeongbuk, a test drive was in full swing for line number 4 prior to normal operations. For security, strict entry procedures were followed, and it was mandatory to wear a dust-proof suit. The large roll of film was spinning non-stop, and the sound of the machine running continued. The workers watching the process also held their breath and closely monitored the progress. The Gumi plant, together with the Jincheon plant, produces the most PI films in the world.

The PI film is a key material that is essential for all industrial products. It must withstand extreme conditions and extreme temperatures from -270 degrees to 500 degrees Celsius. It has excellent heat resistance and is evaluated as one of the best commercially available plastic films due to its safety, and insulation properties. It is mainly used in smartphones, secondary batteries, and displays.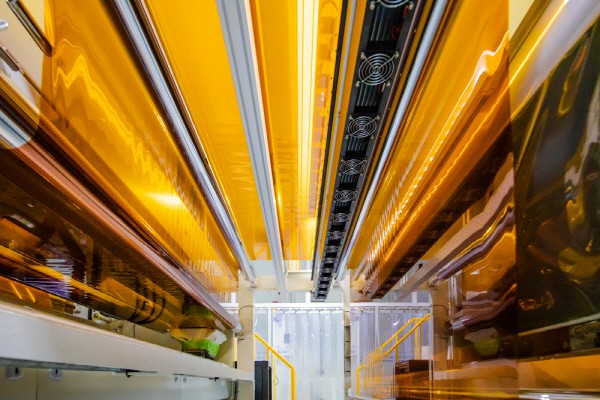 The production process mainly reverted to automated systems. Workers closely monitored the progress and controlled the machine. Units 1 to 4 were placed in one building, so flexible production response was possible anytime, anywhere. After the normal operation of Line 4, the company plans to produce exclusive products for each line. This is because inefficiencies may occur if the variety of each line is changed frequently.

An official from PI Advanced Materials said, "The reason for the expansion to Line 5 is to maximize efficiency by continuously producing one type of film on one line when producing multiple film products. We will gain a competitive edge through the integration of technical know-hows that we've acquired till now" he said.

Although the growth of the PI film market has slowed somewhat due to sluggish demand from the information technology (IT) downstream industry, the company has chosen a 'growth strategy'. It was due to this strategy's success that PI Advanced Materials excelled even when overseas competitors' sales were cut in half.

PI Advanced Materials has most aggressively secured PI film's competitiveness and production capacity in the industry. It not only increased customer trust but also maximized the effect of economies of scale. The company invested 80 billion won in the expansion of the Line No. 4, which is currently under test operation. It has secured an annual production capacity of 750 tons. The total annual PI film production capacity has been expanded from 4500 tons to 5250 tons.

The investment is currently in progress. In order to maintain the world's No. 1 differentiated competitiveness, advanced investments are essential. Line No. 5 expansion will be completed in the second half of next year. The company will also invest 78 billion won to expand its production capacity to 750 tons. When the investment is completed, it will secure a total annual production capacity of 6,000 tons by the second half of next year. It is 1.5 times the capacity than that of the company in the world's second place. We set a goal to further solidify our global No. 1 PI film status.

New growth engines will also be developed in earnest. Although the core sales of PI advanced materials are generated from PI films, PI varnish and PI powder will be developed as well to establish three core capabilities.

A company official said, "We have a PI varnish production line at our Jincheon production plant, and investments and expansion of facilities for PI powder molded products are underway. We will further strengthen our position as a comprehensive high-tech materials company by being the first in the world to establish a mass production system in the three major business areas of PI film, varnish, and powder."

Gumi =

By Park So-ra (srpark@etnews.com)