LG Display has jointly attended the world's greatest rail transport technology fair, 'InnoTrans 2022' which opened in Berlin, Germany this past 20th alongside LG Electronics, and revealed their 'transparent OLED solution for rail transport' which provides a new boarding experience.

InnoTrans is a trade fair that exhibits technology and equipment related to various rail transport industries, such as trains, subways, and trams. Around 3,000 companies from around 60 countries were in attendance.

LG Display prepared a train interior and ticket box themed booth. They exhibited 'transparent OLED for train windows and entrances' as well as 'transparent OLED for ticket boxes'.

The transparent OLED for train windows and entrances is a solution that uses a 55 inch transparent OLED (for windows) and a 30 inch transparent OLED (for entrances). In addition to being able to see the scenery outside through the window, daily information such as travel information, the weather forecast, and news is also provided.

Whenever they pass by a famous landmark or tourist hotspot, various bits of information and advertisements appropriate to the time and place will be shown on the window like augmented reality (AR) to provide a new experience for passengers.

This product is the result of collaboration between global industrial glass manufacturer Asahi Glass Company and Gauzy, using special reinforced glass to be strong against impact and vibrations. It shows a clear screen both above and below ground.

The 'transparent OLED for ticket boxes' has replaced the glass barrier between passengers and station employees with a transparent OLED with a high-sensitivity touch function applied to it. The product allows passengers to be able to manipulate the screen themselves under the direction of station employees to more quickly and accurately look up train travel schedules, and get information on tickets and other various bits of information.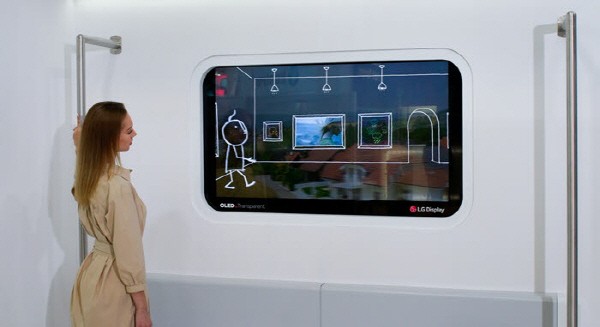 Germany's state-run rail company, Deutsche Bahn, exhibited their next-generation concept train equipped with LG Display's transparent OLED at the fair, and drew much attention. LG Display began supplying transparent rail transport OLED for subways in several key cities in China such as Beijing, Shenzhen, and Fuzhou, as well as for trains of the JR East Japan Railway Company in 2020.

With the global market including the markets of North America, Europe, Japan, and China as their goal, LG Display plans to expand the application of transparent OLED into various parts of the mobility industry, including trains, subways, trams, and railways.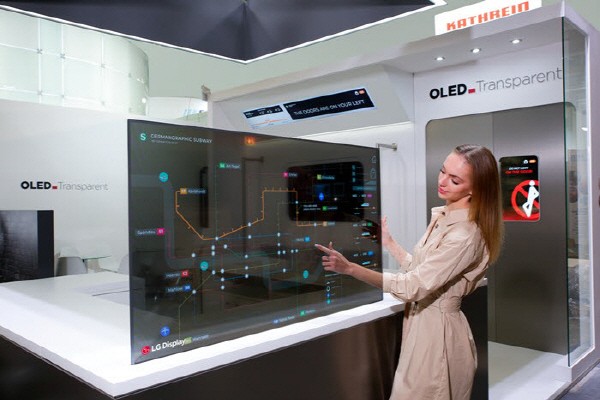 Transparent OLED, which only LG Display mass produces, is a technology that maximizes the strength of OLED where individual pixels produce their own light. The level of transparency is high enough to replace existing windows, and is light enough to be used not only in the field of mobility, but also actively applied in other fields such as in signage, architecture, and digital art.

Minwoo Cho, the head of the transparent business of LG Display, revealed that, "The innovative transparent OLED solution which maintains a sense of openness with its glass-like transparent screen but is able to provide information will continue to be seen in the mobility industry."

By Staff Reporter Sora Park srpark@etnews.com