Impact of Inflation and Economic Recession
'Lowest ever' demand growth rate of 8.3%
Supply increased by 14.1%, widening the gap
NAND flash growth is 'solid'

The demand growth rate for DRAM next year is expected to be the lowest level ever recorded. Analysis shows that the demand for memory semiconductors decreased due to global inflation and economic downturn.
It is also expected to have an adverse effect on DRAM prices.

TrendForce, a market research firm, forecasted DRAM demand bit growth to be 8.3% next year. Bit growth is the growth rate of bits, which is an information unit, and is used as an indicator to measure the growth of the memory market. It is the first time in history that the demand bit growth, which indicates how much more DRAM is needed in the market, has fallen below 10%. Even in 2019, when large-scale DRAM investments ended, the demand bit growth was 14.6%.

On the other hand, supply bit growth for next year is expected to be 14.1%. The supply and demand bit growth gap is poised to widen more than this year. A serious DRAM oversupply is expected.
The sluggish DRAM demand is due to the weakening of consumer purchasing sentiment due to inflation. Sales of major DRAM-applied devices such as PC and laptop as well as smartphone are expected to decrease significantly. Due to the COVID-19 pandemic and supply chain issues, DRAM orders increased, but device sales decreased, and inventory stockpile also affected the decrease in DRAM demand. TrendForce diagnosed that laptop-oriented DRAM demand has weakened since laptop inventories have slowly depleted. Growth is expected to slow down next year as server shipments have shown stable growth in recent years. This means that demand for servers, which has been a major growth engine in the DRAM market, may also decrease.

By the standard, the ratio of DDR4 is expected to drop, and the transition to DDR5 is expected to begin. Growth is not expected to be high due to price issues. The price of DDR5 is 2-3 times more expensive than DDR4.

As the oversupply worsens, DRAM prices will inevitably fall. Since DRAM prices have already dropped, warning signs have been turned on in the market. According to market research firm DRAMeXchange, the fixed transaction price of general-purpose products for DDR4 8Gb (1Gx8 2133MHz) PCs fell by more than 14% from the previous month as of the 29th of last month. This is the biggest drop this year. On the other hand, NAND flash growth is expected to be solid. The bit growth of NAND flash demand next year is 28.9%. The supply bit growth is 32.1%, which is expected to balance the supply and demand ratio to some extent.

According to TrendForce, "Inflation is affecting consumer market demand, so adjusting inventory is a priority for memory manufacturers," and, "In 2023, the DRAM market is expected to experience a severe oversupply, and prices may continue to decline."

[Supply and Demand Bit Growth Forecast of DRAM and NAND Flash]

Source: TrendForce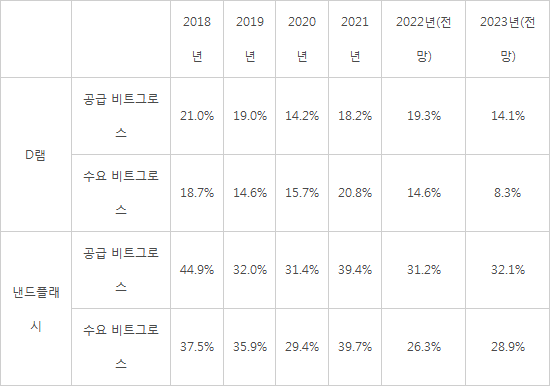 By staff reported Dong-joon Kwon (djkwon@etnews.com)