Report Linker from the US predicted that the global energy storage system (ESS) for home use market will grow from 2.78 billion USD(3.6265 trillion KRW) in 2020 to 13.05 billion USD (17.0237 trillion KRW) in 2027. This is because battery prices are gradually going down along with the global energy price rising such as oil.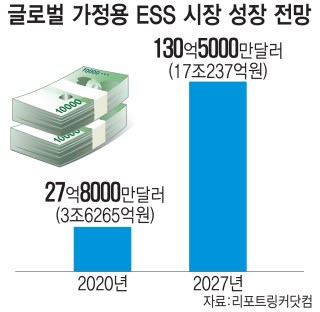 According to the report from Report Linker, the core companies in the home ESS market are battery makers, such as LG Energy Solutions, Samsung SDI, Panasonic (Japan), Sonnen (Germany), and Saft (France) rather than finished product makers of ESS.

Unlike lead-acid batteries, lithium-ion batteries from these companies have more than 5000 charge/discharge cycles, providing an optimal ESS environment for home use. Energy efficiency is high since the self-discharge rate is low while the charging time is maintained for a long time. It also led the market expansion since the price of lithium-ion batteries was 123 USD per ㎾h last year, which was 81.58% lower than $668 in 2013.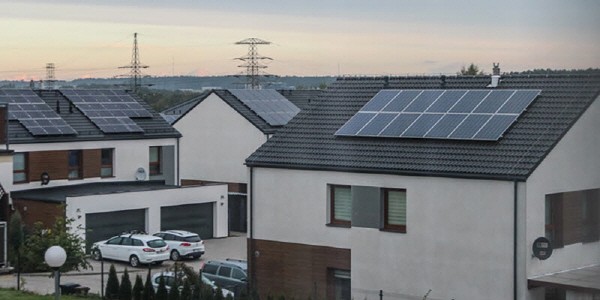 According to the report, Europe will dominate the ESS for home use market by 2027, and Germany and the UK will be accounted for most of the demand.

Germany is subsidizing 30% of the expense in ESS for home use. In addition, various taxes have been exempted for households whose sunlight generation capacity does not exceed 30kW since last year. It is a policy that promotes the distribution of sunlight generation and ESS optimized for household electricity use rather than external sales. 93% of ESS installed in Germany last year, which is about 1357 ㎿h, was found to be ESS for home use.

Markets and Markets, a global market research firm, predicted that the global ESS battery market will increase from 4.4 billion USD (5.7442 trillion KRW) in 2022 to 15.1 billion USD (19.713 trillion KRW) in 2027.

Markets and Markets evaluated that the supply of lithium-ion batteries for ESS is an effective alternative to low-carbon policies and to increase energy efficiency in accordance with the expansion of renewable energy which is the part of modernization of global power grid.

By Staff Reporter Tae-jun Park (gaius@etnews.com)