Due to economic slowdown, demand from business also declining
Shipment of LED is expected to decline by 11.2% in 3Q
Market share of OLED growing in premium market
The purchase of LCD panels for monitors are gradually decreasing. It is analyzed that demand has decreased due to the logistics crisis and economic recession. On the other hand, organic light emitting diode (OLED) panel is growing rapidly and penetrating the monitor market. Major manufacturers of OLED panels for monitors, Samsung Display and LG Display, are also speeding up their market penetration with differentiated product competitiveness.

According to TrendForce, a market research firm, panel purchases have declined as LCD monitor manufacturers lowered their product sales targets from the second quarter. LCD monitor panel shipments in the second quarter were 42.5 million units, down 11.3% from the previous quarter. The third quarter is also expected to decline by 11.2%. Although it is expected to have a slight recovery in the fourth quarter, overall panel shipments this year are expected to decrease by 3.5% compared to last year.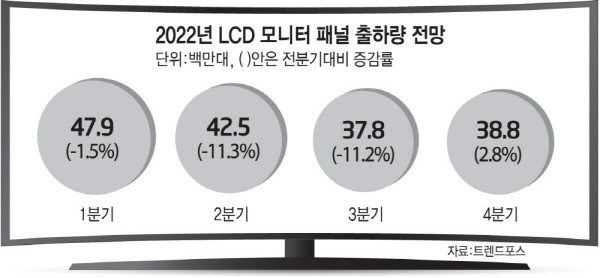 The slowing demand is causing the decline of the LCD shipment the most. TrendForce analyzed that LCD manufacturing companies predicted the high shipment goal earlier this year, but since companies are tight on their budget, the demand of LCD monitor has declined. It is believed that the inventory is high as monitors were oversupplied.

It is expected that OLED will take the spot of LCD monitor. This is because shipments of OLED panels for monitors are expected to increase sharply this year. Display Supply Chain Consultants (DSCC), a market research firm, predicted that this year's OLED panel shipments for monitors would be 600,000 units. This is an increase of 328% compared to the same period last year. The numbers from DSCC includes both quantum dot (QD)-OLED, recently introduced by Samsung Display, and white (W) OLED, led by LG Display. DSCC predicted that this year, QD-OLED will account for 27% of OLED monitors and WOLED will account for 52%.

The growing trend is caused by the fast penetration of OLED panels centering on premium monitors. The proportion of OLED panels in the premium monitor market is expected to increase from 9% last year to 15% this year.

Major panel manufacturers, Samsung Display and LG Display, are also aggressively targeting the market. Samsung Display applied QD-OLED panels to Dell monitors and started supplying them in earnest. They are responding to the demands of the gaming monitor market with their strengths such as industry-leading response speed and excellent color reproduction range. It is known that Samsung Display is also discussing panel supply with other monitor manufacturers other than Dell.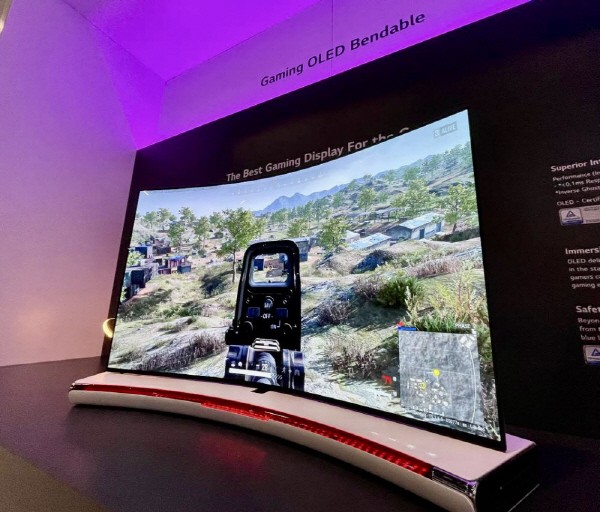 LG Display is expected to expand the supply of OLED panels with LG Electronics, the leader in OLED monitors. DSCC selected LG Electronics as the number one OLED monitor market share this year. They have a market share of 43%. Samsung Electronics (11%) and Asus (9%) are expected to follow. Attention is paid to whether the large-screen OLED monitor panel can replace the demand for small and medium-sized TV. An LG Display official said, "To take the lead in the OLED monitor market, we are developing a 'bendable' panel that can freely fold and bend the screen. We plan to target the monitor market optimized for the gaming environment."

By Staff Reporter Dong-jun Kwon djkwon@etnews.com