Property of existing quantum dot changes with heat and humidity
Overcoming the worst weakness by using polymer convergence technology
Starting the mass-producing with 30~40% more stability
Establishme
ODTECH has successfully developed quantum dot(QD) that maintain stable performance even at high temperature and humidity. As an example of overcoming the worst weakness of quantum dot with polymer material convergence technology. The mass production will begin for prompt commercialization. ODTECH has also developed quantum dot that can be used for biomarker in order to diversify their product portfolio.
ODTECH announced on the 21st that they will mass-produce quantum dot by reforming polymers such as acrylic and polymethacrylate (PMMA) on the surface of indium phosphorus (InP) quantum dot that gives significantly improved heat resistance and moisture resistance. Reforming is a process to improve quality by changing the material structure with heat or catalyst.

Quantum dot is becoming more popular as a next-generation material because of their excellent characteristics and diverse application fields such as displays, lasers, solar collectors, and biomarkers. Currently, the market where quantum dots are applied the most is Samsung's QLED TV products. In particular, it has a higher color purity than organic light emitting diodes (OLED), therefore, it is considered as a key material for future displays.

Existing quantum dots had a limitation in that their properties change with heat or humidity. Through a new material modification method, ODTECH manufactured quantum dots that maintain stability even at high temperature and humidity and greatly improved the stability to acids and bases. ODTECH used oven and thermo-hygrostat (RH 85%) to test the polymer-modified quantum dots for 30 days at 80~120℃ and showed 30-40% higher stability than the existing quantum dots. It is their goal to replace the quantum dots that are vulnerable to heat and moisture. It is expected to meet demand.

By reforming carbohydrates and proteins into InP quantum dots, ODTECH is also developing new quantum dots for biomarker that can be used for screening specific cancers or diseases. It is expected to be used in various bio-screening fields for diseases in the future by confirming the performance and stability of quantum dots by successfully conducting a cancer-targeting experiment in experiment rat.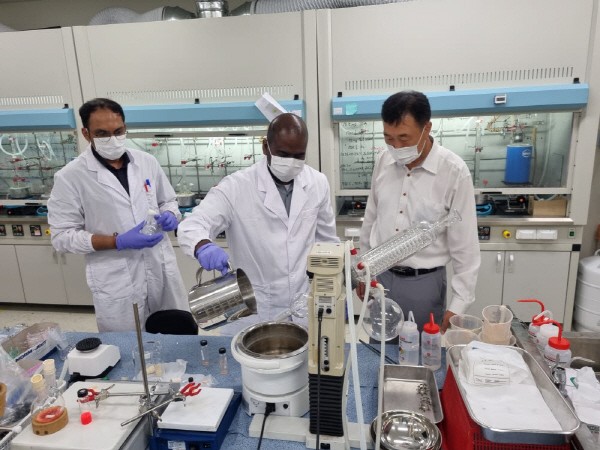 ODTECH's achievements were attributed to the quantum dot technology accumulated over the years. ODTECH started researching cadmium quantum dots in 2014, and because of eco-friendly factors, they switched to non-cadmium-based InP quantum dot research to secure mass production. They will produce products that capsuled product of stabilized quantum dots so that they can be used in the market. ODTECH is advancing quantum dot technology by carrying out a number of projects, including the development of flexible cadmium-free nano light-emitting materials with a color rendering index of 92 or higher (National core material source technology development project). The development of InP quantum dots manufactured by etching with a metal halide complex is also one of the projects.

ODTECH will use InP quantum dots as their future growth engine and expand investment in facilities for production. In order to mass-produce newly developed quantum dot, they are expanding their manufacturing infrastructure, and when they start the mass-production, it will become and new future growth engine.

Bong-min Choi, president of ODTECH semiconductor division, said, "Because one of the weaknesses of South Korea is that the new material being developed among the material, parts, and equipment, the success of developing quantum dots to replace new materials is very encouraging as it shows our capability in global market, and also a breakthrough in the electronics industry."

By Staff Reporter Dong-jun Kwon (djkwon@etnews.com)