Demand of MCU increase from automobile to home appliance
Average sales of top 5 companies rose 27% compared to last year
82% of whole market share… Number one 'NXP'
Depending on product, MCU price
The top five manufacturers of microcontroller unit (MCU)surged 27% in sales last year, which is major item of a semiconductor supply shortage. This is because the demand for MCUhas increased significantlynot only automobiles, but also home appliances. The average selling price (ASP) has risen, also. While the demand for MCU is expected to continue, the method of switching the MCU production process from the existing 8-inch wafer to 12-inch wafer is emerging as a solution to the supply shortage.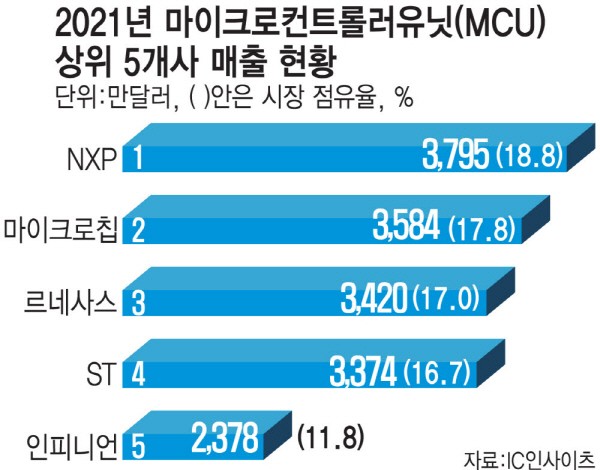 According to market research company, IC Insights, the total sales of NXP, Microchip Technology, Renesas, ST, and Infineon Technologies AG, the top five MCU companies in sales, increased by an average of 27% compared to the previous year. Their combined market share exceeds 82%. Compared to the 2% decline in the MCU market in 2020 due to the COVID-19 pandemic, this is veryrapid growth in one year.

By company, NXP took first place with sales of 3.795 billion USD, up 27% from the previous year. It was followed by Microchip (3.584 billion USD), Renesas (3.42 billionUSD), ST (3.374 billionUSD) and Infineon (2.378 billionUSD). ST had a 35% growth rate compared to the previous year, which was the highest growth rate out of all.

This performance was possible because of a significant increase in MCU demand across the industry. The number of semiconductors applied to the electrification of automobiles have increased, and the overall home appliance sector suffered from a shortage of MCU supplies. Due to earthquakes and fires in Japan last year, production of Renesas products stopped and the temporary suspension of Infineon Technologies AG and NXP Austin plants due to a cold wave in Texas, USA also aggravated the MCU supply shortage.

The lack of MCU has even caused disruptions in the production of finished cars and home appliances, and industry started to say 'name the price'. In fact, last year's MCU ASP grew 12%, the highest annual growth rate since the mid-1990s. It is known that the price of a specific MCU has jumped several dozens of times depending on the item to be applied.

While demand for MCUs remains solid this year, the expansion of manufacturers' production capacity is expected to ease the supplyshortage. Some MCU manufacturers are increasing productivity by converting products from 8-inch wafers to 12-inch wafers. In addition, the amount ofconsigned production to foundries such as TSMC is also increasing, so MCU production is expected to increase.

[Performance status of top five microcontroller unit (MCU) companies]

Source = IC Insights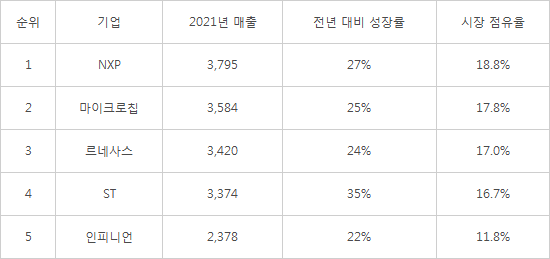 By Staff Reporter Dong-jun Kwon (djkwon@etnews.com)