Application of cobalt sulfate, electrolyte, etc.
Effect of purchasing key items tariff-free
LG Chem, POSCO Chemical, etc.
Significant improvement in operating profit in Q1
The operating profit margin of the battery materials industry was found to have improved significantly in the first quarter. This appears to be due to the temporary quota tariff benefits implemented by the government.

The operating profit margin of LG Chem's advanced materials division increased from 7.6% at the end of 2020 to 16.04% in the first quarter of this year. POSCO Chemical's energy materials business division increased from 0.67% to 4.19%. L&F and Cosmo Advanced Materials & Technology also increased from 0.39% and 6.07% to 9.57% and 9.16%, respectively.

The increase in operating profit margins was largely attributed to the government's quota tariffs. The Ministry of Trade, Industry and Energy is implementing a quota tariff that applies a tariff lower than the basic tax rate for one year, on industrial use raw and subsidiary materials that require price stabilization due to the strengthening of industrial competitiveness and soaring import prices.

Since 2020, quota tariffs have been applied to 20 raw materials for secondary battery, including cobalt sulfate, lithium cobalt oxide, cutters, and adsorbents. By applying quota tariffs to tariffs that were initially imposed at 5-8%, they are aiming to enable the purchase of raw materials with virtually no tariffs.

Last year, the government added NCM (nickel, cobalt, manganese) precursors to quota tariffs. It was previously at 8%, but changed to tariff-free. This year, quota tariffs will be applied to 17 key items, including NCM precursors, cobalt sulfate, and electrolytes.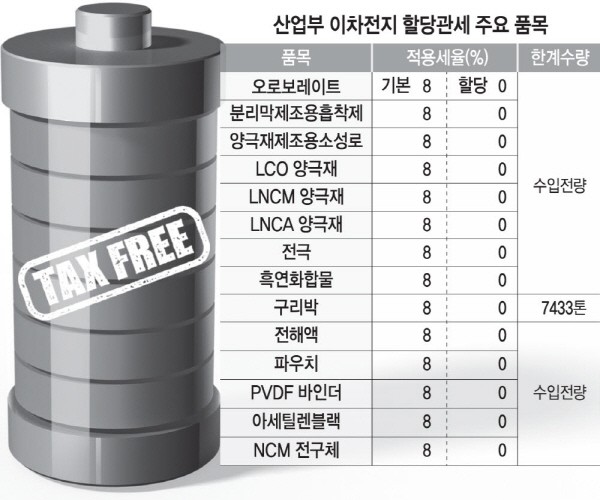 After analyzing the quarterly report of cathode material manufacturers, it was found that tariffs allocations on NCM precursors had a significant impact. Cosmo Advanced Materials & Technology stated in its first quarter report that KRW 27.8 billion worth of NCM precursors were purchased. If the existing NCM precursor tariff of 8% was applied, the cost would be KRW 2.2 billion. However, since tariffs were eliminated through quota tariffs, the KRW 2.2 billion was saved. Considering that Cosmo Advanced Materials' operating profit in the first quarter was 8.3 billion won, they were able to reduce purchase costs by more than 20%.
The same goes for other companies. LG Chem's advanced materials division, POSCO Chemical's energy materials division, and L&F announced that they spent KRW 795.4 billion, KRW 261.9 billion, and KRW 563.9 billion, respectively, on purchasing raw materials including NCM precursors in the first quarter.

Considering that NCM precursors account for around 70% of the cost of cathode materials and the domestic self-sufficiency rate for cathode material is 20% as of 2020, applying tariff-free benefits to NCM precursors allowed these companies to save about KRW 35 billion, KRW 11 billion, and KRW 25 billion.

Considering that the operating profits of the three companies' in the first quarter were KRW 153.7 billion, KRW 13.3 billion, and KRW 53 billion, it had significant impact. Since the NCM precursor allocation tariff is only a temporary measure that is extended every year, analysis suggests it is unreasonable to see it as a significant improvement compared to the operating profit at the end of 2020.

The cathode material industry is also aware of this situation and is starting to become more self-sufficient in raw materials including NCM precursors. Cosmo Advanced Materials & Technology recently invested 16 billion won in a precursor production facility with an annual capacity of 2,400 tons. In March, POSCO Chemical signed a KRW 600 billion investment agreement to establish a precursor production plant in Gwangyang, South Jeolla Province. EcoProBM is receiving precursors through its subsidiary EcoPro GEM.

By Staff Report Yoon-sub Song sys@etnews.com