Breakaway from focusing on SW License·Sales
Dividing Cloud Areas into 6 solutions
Evaluation of training completion, and certification
Facilitating partner companies' technology investment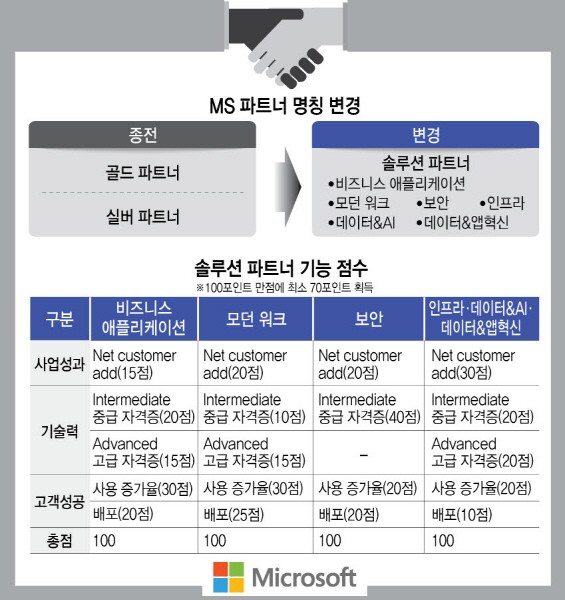 Microsoft(MS) is changing their existing partner program, 'MPN(Microsoft Partner Network)', into MCPP(Microsoft Cloud Partner Program) from October 3rd. It is interpreted as them organizing their software license-based partners and reorganize their partners focusing on cloud technology base.

MS announced that they are ending their global partner policy by September 30th. The existing partner program, which was divided into Gold and Silver based on existing capabilities, will be removed and the certification system will be reorganized as main business areas of MS Cloud, which are divided the six solution areas.

The six solution areas are △Business Applications △Modern Work △Security △Infrastructure △Data & AI △ Data & App Innovation. Acquisition conditions are scored according to the solution partner certification. Each area is scored out of 100 points, and a partner certification can be obtained if the score is 70 or higher. The total score for the six areas is out of 600 points.

The detailed conditions for each field are classified into △Business performance △Technology △Success of customer. Business performance is measured by net customer adds. Technology can be granted according to specific qualifications held by each member of the team, verifying technological improvement and training completion. Success of customer is measured by usage growth rates and solution deployments.

Partners who have acquired all six solution partner certifications will be able to acquire 'MS Cloud Badge'. However, a specific incentive guide has not been announced. Microsoft briefly said that obtaining a solution partner certification will give customers a package of certification related benefits (IUR) such as Azure credits, product licenses, and cloud service subscriptions. This will enable business development and expand customer reach. They will also support product, platform, technical support, comprehensive training courses, pre-sales technical support, and deployment services.

The reorganization of MS partner is interpreted as the change in the partner program to expand cloud business growth and into a technology-focused partner. Existing MS partners are usually focused on software licenses or sales, such as Windows Server. In addition, it was pointed out that the distinction between the capabilities of gold and silver partners was not clear.

In order to correspond with the growth of the cloud market, it is interpreted that MS partner is also actively involved in cloud technology development. The change in the partner program is interpreted as that if customers do not score points in the cloud field, they will not be given a chance as a partner. Therefore, the possibility of opposition from existing partners can cause issues. Some predicted that the existing license sales partners will be eliminated.

A MS partner official said, "The reorganization of the MS partner program will only increase the partner grade after obtaining a technical score, and we are expecting that existing license sales partners may object. On the other hand, it can make a difference with a technology-focused partner who is active in cloud technology development, so we are looking forward to have the new policy."

MS Korea said, "We are currently verifying the changes in the global partner policy."

By Staff Reporter Hye-young Song (hybrid@etnews.com)