Final preparations for sales of 'GEMS Hip'…Reviewing consignment production
Samsung Electronics is focused on receiving approval from the US Food and Drug Administration (FDA) ahead of the launch of the robot. The prototype has been approved, and they are now focusing on getting approval for the mass produced version of the product. Parts suppliers in the industry are looking forward to expand their Supply Chain Management (SCM) with the new Samsung Robot.

According to the parts industry on the 19th, Samsung Electronics is accelerating the final preparations of their wearable driving assistance robot, 'GEMS Hip', by setting the release date to August. They shared the development status and tentative launch plans with major partners.
The initial supply of wearable robots is known to be around 50,000 units. Although the target release date is August, there is a possibility that the release may be delayed depending on market conditions, government regulations, and approvals.

Samsung Electronics is considering a plan to entrust consignment production to its key partners. The robot SCM was mainly organized by first-tier suppliers of their smartphone business. Samsung Electronics' subcontractor A will be in charge of major part from robot design to manufacturing.

It was found that the reducer, which accounts for more than 40% of the unit price of robot parts, was entrusted to foreign companies. Japanese companies are highly competitive in the field of reducers. The reducer is a core part of the 'joint' that controls the robot's movement. Gears are used to lower the rotational speed of the motor and increase driving force.
Samsung Electronics plans to procure the core sensors, semiconductor substrates, and multilayer ceramic capacitors (MLCCs) mounted on robots from major domestic partners.

The domestic partnersare very welcoming. Unlike smartphones, robots have low production volume but high unit cost of parts. This helps with profitability. Samsung is growingtheir robot business as prospective source of revenue, and the market outlook is looking bright. Some partners have already begun mass production of Samsung Electronics' robot parts in the first quarter.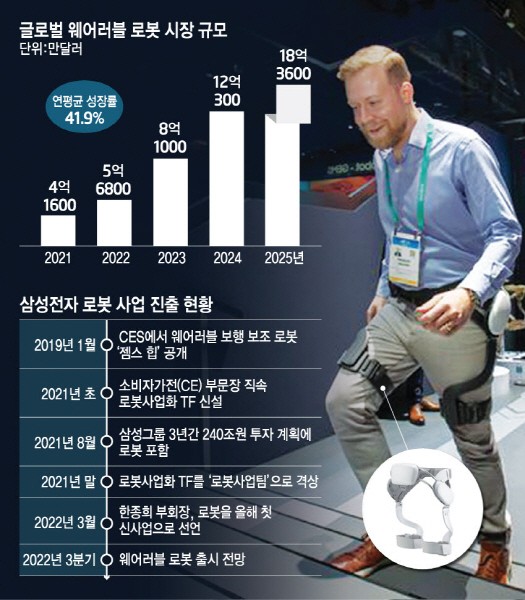 Samsung Electronics is focused on the U.S. robot market. Commercialization is the fastest in the U.S. for the wearable robot market. According to the Korea Evaluation Institute of Industrial Technology, the U.S. wearable robot market has been growing rapidly by 21% every year since 2016. The growth rate of the global wearable robot market exceeds 40%.

In particular, Samsung Electronics is believed to be focusing on getting FDA approval and applying for health insurance. Demand for wearable robotsin the U.S., for wounded disabled soldiers and the elderly, is quite high. However, since it is not easy for ordinary consumers to readily purchase wearable robots that cost several million won, market growth may be slow.
Samsung's strategy is to allow wearable robots to be classified as medical products, such as crutches and wheelchairs, so that they can receive health insurance benefits.

At 'CES 2019' in January 2019, Samsung Electronics unveiled the wearable walking assistance robot 'GEMS Hip' for the first time. In early 2021, a robot task force (TF) was formed under the direct supervision of the head of the consumer electronics (CE) division. At the end of that year, the robot commercialization TF was upgraded to the Robot Business Team.

At the regular shareholders' meeting in March this year, Samsung Electronics' Vice Chairman Jong-hee Han emphasized that robots would become a new business.

By Staff Reporter So-ra Park (srpark@etnews.com), By Staff Reporter Yoon-seob Song (sys@etnews.com)