There is a lot of attention on why Mercedes-Benz, a leading luxury car manufacturer, is joining hands with LG's electronics division. Analysis suggests that their accumulated customer experience data and expertise, while maintaining their position as a leading global home appliance company, shined.

At the SID2022, the world's largest display exhibition held in San Jose, U.S. for three days from the 10th, the MBUX hyperscreen installed in Mercedes-Benz' EQS vehicles was selected as the 'Display Application of the year'.

The product is an infotainment system jointly developed by LG Electronics with Mercedes-Benz.

The reason LG Electronics' products were installed in Mercedes-Benz top-of-the-line EQS sedan is because Mercedes-Benz gave high scores to LG Electronics for their accumulated customer experience expertise.

Recently, in order to enhance customer experience, the auto industry emphasized the importance of the vehicle exterior, as well as the interior and convenience functions. Electric vehicles have a wider interior than internal combustion engine vehicles. The common goal of the auto industry is to provide customers with unique and personalized in-car experiences.
LG Electronics is leading industry trends, such as new home space appliances by introducing new products that were previously nonexistent. LG Electronics is meticulously conducting customer research to introduce better products.

In terms of contributing to improving customer experiences in the car, which is sought after by the auto industry, LG Electronics was analyzed to be the best partner.
LG Electronics regards vehicle users as its top priority, and is focusing on human-machine interface (HMI) to meet customer demands. In order to integrate various technologies within a vehicle and to function organically, it is essential to design a system with built-in safety. LG Electronics' strength is their HMI capabilities, which differentiate them from competitors.
Mercedes-Benz reportedly sent a letter to LG Electronics regarding the award, saying, "We achieved this all as a team."

Seok-hyeon Eun, Executive Vice President of LG Electronics' VS Business Division, said, "It is a great honor to introduce a unique product to the market and to be recognized for its excellence," adding, "We will continue to make efforts to lead the global market in the electronic parts business by pioneering new fields with customers."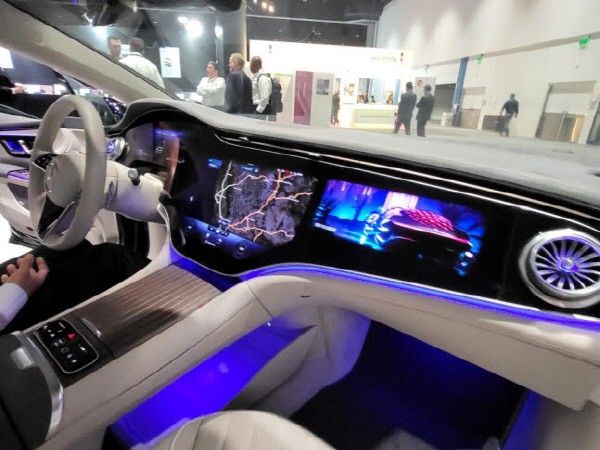 By Staff Reporter So-ra Park srpark@etnews.com