Increase capacity by 20% with facility investments
Beginning to solidify its place as 'World No. 1'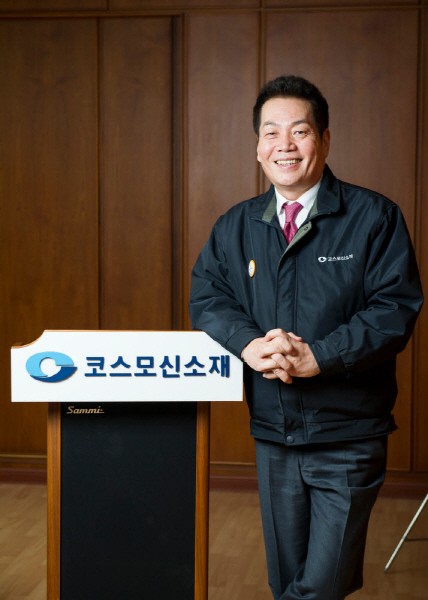 Cosmo Advanced Materials & Technology (Cosmo AM&T) will invest tens of billions of won in multilayer ceramic capacitor (MLCC) release film facilities. The release film is an essential consumable in the MLCC manufacturing process. Cosmo AM&T is set to solidify its position as the world's leading MLCC release film.

Dong-hwan Hong, CEO of Cosmo AM&T, said, "With this investment, the production capacity of MLCC release film will increase by 20%," furthermore, "We managed to secure up to 70 million square meters of production capacity by using the idle space in their third MLCC release film production plant."

MLCC is a component that controls the stable flow of electricity in an electronic circuit. When producing MLCCs, a specially processed film is attached and removed, known as a 'release film'. It is a core material that accounts for more than 10% of the MLCC manufacturing cost. It accounts for 40% of Cosmo AM&T's total sales.

CEO Dong-hwan Hong said, "As the demand for semiconductors increases, the MLCC market expands as well," adding, "MLCCs are growing at more than 7-8% every year, so our release films are also generating stable sales."

Cosmo AM&T is the leading manufacturer of the largest number of release films in the world. Release films have high entry barriers. The film is as difficult and sensitive to handle as semiconductors. The profitability is also comparable to that of the battery cathode material business.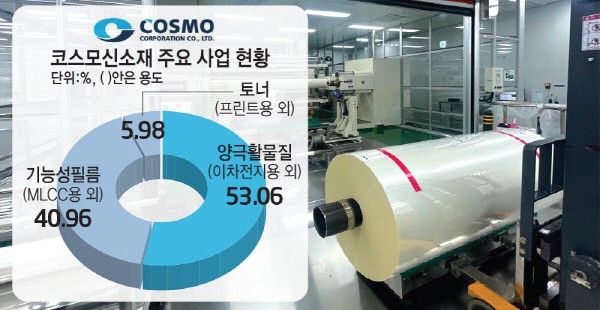 Cosmo AM&T has accumulated decades worth of film expertise. They have secured film processing technology since the days of Saehan Media, the predecessor of Cosmo AM&T. Cosmo AM&T receives the raw materials for films from Kolon Industries and SKC, and specially process them before supplying them to Samsung Electro-Mechanics, a key MLCC customer. Samsung Electro-Mechanics accounts for about 80% of sales.

CEO Hong said, "The fact that there are only a few companies that produce release films means that it is difficult to secure the core technologies," and further explained, "Although competition with Japanese companies is fierce, we are steadily increasing our market share with our differentiated technological expertise unique to Cosmo AM&T."

They are also expanding their business in China. As the price of MLCCs soar and demand rises, the MLCC market in China is also growing rapidly. Cosmo AM&T plans to penetrate the Chinese market rather than the Japanese market, where there are many film manufacturers.
CEO Hong said, "The technology gap with Chinese release film manufacturers is about 4 to 5 years," adding, "We will expand our share in the growing Chinese MLCC market."

Cosmo AM&T is developing two core businesses: cathode active materials for secondary batteries and functional films. CEO Hong plans to ride the 'two carriages' of their battery material business and MLCC release film to drive performance.

He said, "We will focus on MLCC release films for the electronics field and industrial use," and, "We will strengthen our competitiveness as a global leader in the MLCC release film market, where the market growth potential is as promising as the battery material business."

Chungju =

By Staff Reporter So-ra Park srpark@etnews.com