95-inch 8K OLED/Micro LED
Unveiled at the Society for Information Display
Only Performance of South Korean products
Full national support... Getting ready for mass production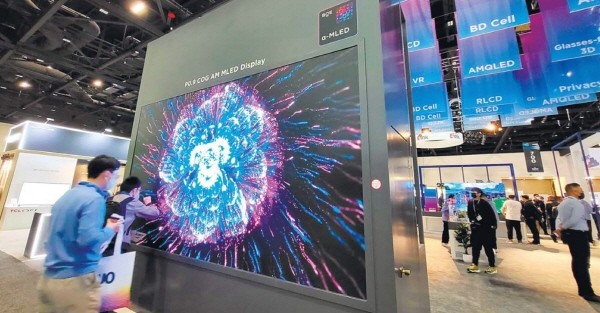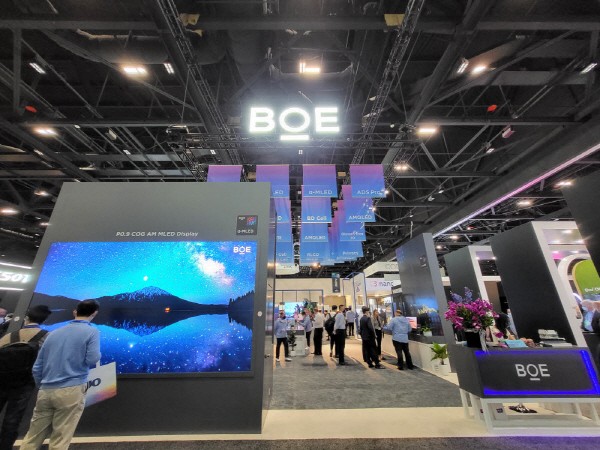 China's BOE introduced the world's largest 8K organic light emitting diode (OLED) panel for the first time. China Star Optoelectronics Technology (CSOT), a subsidiary of TCL, also developed a 60-inch large OLED panel for the first time. China's attacks has begun to break down the strongholds of LG and Samsung, the only companies in the world that mass-produced large OLEDs. In order not to follow in the footsteps of liquid crystal display (LCD) train that allowed China to take the leading spot, government-level support for the display industry is desperately needed.

At the Society for Information Display (SID) 2022 held in San Jose, California, U.S. for three days from the 10th (local time), Chinese display companies poured out a many new next-generation display technologies such as large OLEDs and micro LEDs.

BOE installed a 95-inch 8K OLED panel at the front of the exhibition. This is the first time that BOE has introduced a large-size OLED at an international exhibition.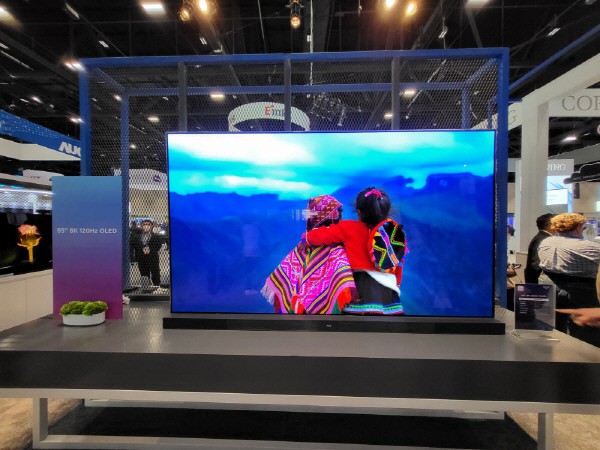 By releasing the industry's largest 8K OLED panel, they demonstrated their technological prowess that it can develop large-scale products. However, this product had less than half of LG products with a luminance (brightness) of up to 800 nitro.

An official at BOE said, "We have not yet ironed out a specific plan for large-scale OLED mass production, but at any time we may prepare for mass production."

BOE installed a super-large micro LED at the entrance of the exhibition hall. MicroLED refers to an LED element size of 100 micrometers (㎛) or less. BOE microLED was found to be 90㎛ horizontally and 120㎛ vertically.

CSOT also unveiled a large OLED panel. CSOT introduced a 65-inch 8K OLED panel for the first time. This product was manufactured using inkjet printing process technology. It is a method of printing OLED light emitting material on a substrate like an inkjet printer. CSOT also exhibited a large number of small and medium-sized low-temperature polycrystalline oxide (LTPO) OLED panels for mobile use. It is a stepping stone aimed at entering Apple's iPhone supply chain.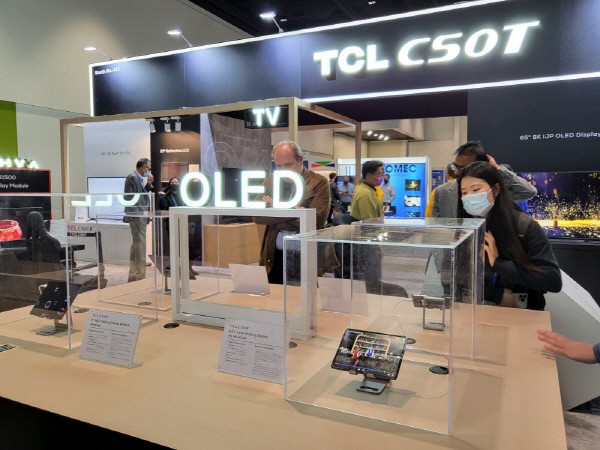 Experts analyzed that China, which has become the world's leader in display, is catching up quickly in the large OLED market thanks to aggressive investment and astronomical government support. The Chinese government is providing full support to display companies, including free land support, subsidies for manufacturing facilities, and corporate tax reductions. China is planning to mass-produce large-scale OLEDs from China in just one to two years.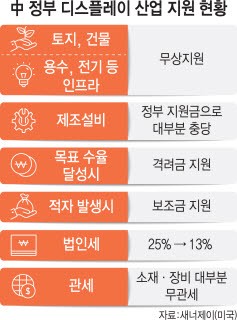 Although there is still a technology gap with South Korean companies in the large OLED market, some point out that it is only a matter of time before China catches up with South Korea.

"The Chinese government is investing enormous benefits and support to provide subsidies when display companies make a deficit," said Jang-hyuk Kwon, a professor of information display at Kyung Hee University. "Our government should also widen the technology gap with full support in the display industry," he added.

San Jose (U.S.)=

By Staff Reporter So-ra Park srpark@etnews.com