The Big 3 Raw Materials of Lithium·Nickel·Cobalt
Long-term supply agreement signed and self-procurement
Entire battery production cycle system secured
Attention on first 'material internalization'
Tesla is now the first finished vehicle company, that is able to solve the issue of raw materials for EV batteries in-house. It now possesses an in-house production system for core materials, in addition to the development and production of battery cells. Unlike the three domestic battery companies, where only materials are supplied through positive and negative electrode material companies, the structure has the raw materials procured directly. In the midst of rising difficulties in supply of raw materials, it has been evaluated to have a more stable battery supply system compared to other finished vehicle companies as well as battery manufacturers.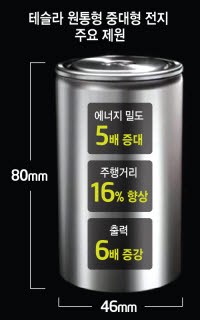 Tesla has signed a long-term deal with Brazilian mining giant, Vale, for long-term transactions for nickel, a raw material necessary for EV batteries, and has already begun to be supplied early this year. Tesla uses the nickel after it has been processed in Vale's refineries in Canada. In the recently published '2021 Sustainability Report', Tesla also disclosed suppliers of raw materials for lithium-ion secondary battery. The suppliers for lithium include Albemarle(U.S.), Livent(Argentina), Ganfeng(China), and suppliers of lithium hydroxide include Yahua(China). Suppliers of cobalt include Guizhou, Huayou, Hunan(China) and Glencore Kamote(Congo), and nickel suppliers include BHP Nickel West(Australia) in addition to Vale. Tesla also signed a large-scale nickel concentrate supply contract with Talon Metals.

Tesla has secured a stable supply system by signing long-term supply contracts with multiple companies for lithium, nickel, and cobalt minerals, the three major raw materials for batteries. In other words, it has established a supply chain for the entire battery cycle by securing minerals and raw materials in addition to their development and production of finished battery cell products. Procuring mineral resources for their batteries this way is different from the resources procured by battery manufacturers or material manufacturers. In particular, South Korean battery manufacturers have taken the strategy of receiving finished materials from material manufacturers rather than self-procurement.

As the demand for EVs surges, competition to secure raw materials is intensifying, and the price of some key raw materials, such as nickel, is on the rise by dozens of times. As Tesla skips the middle stage of battery manufacturers and secures its own supply chain, there are concerns that South Korean battery manufacters, who rely on a relatively small supply chain of material suppliers, may fall behind in manufacturing competitiveness.

By Staff Reporter Taejun Park (gaius@etnews.com)