Apple changes parts supply chain management
Preference for South Korea↑, as China and Taiwan proportion decreases
Company A responds quickly to delivery due to internalization
A South Korean parts manufacturer will supply sockets and probe cards for semiconductor tests to Apple. Sockets are consumables used for electrical and thermal testing in the last stages of semiconductor post-processing. Probe cards are consumables used to filter out defective products using electrical signals during the semiconductor wafer stage. Apple is gradually shifting its socket and probe card supplier to South Korea, which they have been primarily been dependant on Taiwan and China so far.

According to the parts industry on the 2nd, Company A, which specializes in semiconductor sockets, became the first to supply semiconductor sockets for application processor (AP) testing to Apple. It recently passed the performance (Quality) test and will begin supplying from the second half of this year. Company A has been developing semiconductor sockets for Apple since two years ago.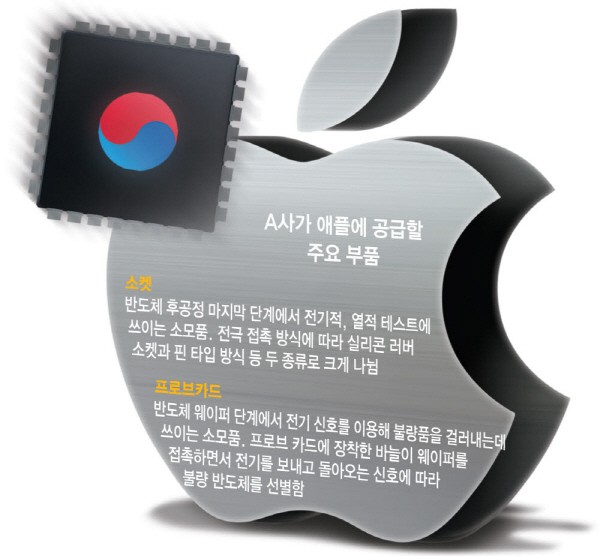 Company A supplies sockets for semiconductor tests to Apple through TSMC. Semiconductor test sockets are an essential part in the final inspection work during the semiconductor post-processing. It is a key part that inspects all semiconductors to ensure there are no defects.

Sockets are divided into two types: silicone rubber sockets and pin type sockets, depending on the electrode contact method. Until now, Apple has mainly used pin-type sockets. Recently, as the advantages of the silicon rubber method have been highlighted in the 5th generation (5G) high-frequency environment, Apple has also begun to adopt silicon sockets. The sockets supplied to Apple by Company A were identified as silicon.

Company A is also supplying probe cards for NAND flash to Apple. It is understood that the probe cards are being supplied through China's Yangtze Memory Technologies (YMTC). The probe card plays a role in picking out defective semiconductors based on the signals from the needle mounted on the probe card that sends electricity while touching the wafer.

The parts to be supplied this time are believed to be for Apple's own AP, A15. There is also a possibility that it may be for their extended reality (XR) device that is about to be released by Apple.

It is noteworthy that South Korean parts manufacturers are outpacing Taiwan and Chinese companies, that have previously supplied parts for semiconductor tests to Apple.
Until now, Apple has mainly used Chinese sockets and probe cards. This is because Apple commissioned AP production through Taiwan's TSMC.

Recently, Apple is changing their semiconductor test parts supply chain management (SCM). The proportion of parts in Greater China is gradually decreasing. Due to the impact of the U.S.-China trade dispute, preference for South Korean companies has increased in terms of delivery response and production stability due to COVID-19.

In particular, Apple is believed to have given a high score to Company A for internalizing a significant part of the semiconductor socket and probe card, and responding quickly to deliver.

By Staff Reporter So-ra Park srpark@etnews.com