Large-scale Manufacturing Infrastructure in Germany, Ireland
France to create R&D hub and high-tech jobs
Compares to TSMC and Samsung Electronics' investment scale
South Korea and Taiwan lead distrib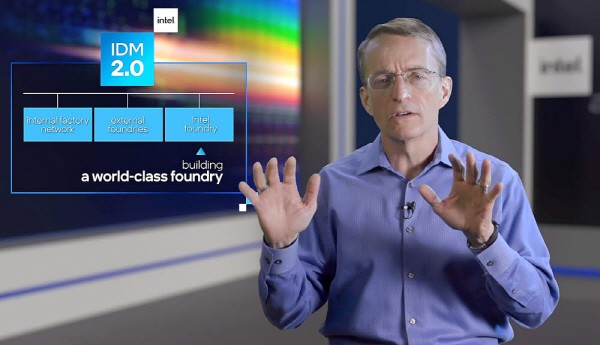 Intel plans to invest 80 billion euros (about KRW 109 trillion) to establish a semiconductors production base in the European Union. It has been two months since they announced their plans to invest $100 billion in Ohio. Global semiconductor production bases, which have been led by Asian countries such as South Korea and Taiwan, are expected to be dispersed to the U.S. and Europe. Changes in the semiconductor market have become inevitable due to strategies to foster the semiconductor industry in the U.S. and Europe, led by Intel's investments.

Intel announced on the 16th that they will invest up to 80 billion euros in the entire supply chain of semiconductors in the EU over the next 10 years. For the first step, two semiconductor manufacturing plants will be built in Sachsen Anhalt, Germany. 17 billion euros (KRW 23.12 trillion) will be invested. Construction will begin in the first half of next year and will be operational in 2027.

Intel will also invest 12 billion euros (KRW 16.32 trillion) to double the size of Ireland's Leixlip fab. They plan to mass-produce semiconductors with the 'Intel 4' process, which is a cutting-edge process that is 7 nanometers or less. Combined with existing investments, the Irish investment amounted to more than 30 billion euros. In Italy, 4.5 billion euros will be spent to build infrastracture for semiconductor back-end processes. Intel has decided to take over the 'Tower Semi-conductor' fab in Italy. Synergy with the new post-processing facilities is expected.

They also took the plunge by going into large-scale R&D support to expand their semiconductor technology capabilities in Europe. They plan to build a European R&D hub in the Plateau de Saclay region of France, and create 1,000 high-tech jobs. Intel's research facility in Poland will also be expanded next year.

Intel's investment in Europe coincides with U.S. and EU policies to reduce reliance on Asian semiconductor manufacturing. According to the America Semiconductor Industry Association (SIA), as of 2020, the share of Asian semiconductor production in South Korea, Taiwan, Japan, and China reached 73%. The U.S. and EU, which are trying to establish a stable supply chain due to supply and demand difficulties in semiconductors, are believed to be trying to create a large-scale manufacturing infrastructure with Intel at the forefront. It is being understood as an attempt to disperse the semiconductor production system concentrated in Asia.

Intel can also quickly secure cutting-edge semiconductor production capacity that is behind Samsung and TSMC. Intel investment was confirmed as soon as the EU announced the EU Chips Act, which contains various support measures to develop semiconductor production capacity in Europe. Intel CEO Pat Gelsinger said, "The EU semiconductor legislation will help private companies and governments work together to dramatically improve Europe's position in the semiconductor sector."

With Intel's strong performance, changes in the market are inevitable. Two months ago, in January, Intel decided to build a semiconductor fab in Ohio, U.S.. Total investment over 10 years is expected to reach $100 billion. On a foundry basis, total Intel investment is estimated to be comparable to that of TSMC and Samsung Electronics. As Intel's pursuit of the No. 1 and No. 2 position in the global foundry market accelerates, it is highly likely that the market share will change significantly. Intel's Foundry Fab will be operational around 2025. A battle between the three companies to attract semiconductor fabless customers such as Qualcomm and Apple is expected to unfold.

By Staff Reporter Dong-jun Kwon (djkwon@etnews.com)