Last year's Youngong profit expected to be 1.2 trillion won
LG Ensol is also likely to achieve 900 billion won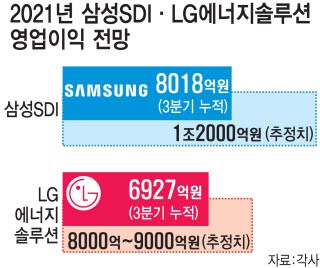 Samsung SDI's electric vehicle battery business recorded an annual surplus for the first time in 12 years. LG Energy Solution also recorded an operating profit of close to KRW 1 trillion last year, following their first surplus in the electric vehicle battery business in 2020. The electric vehicle battery industry has passed through a deficit tunnel for the past 10 years and has reached a 'tipping point' that generates huge profits.

According to the financial and investment industry on the 24th, Samsung SDI's operating profit in 2021 is expected to reach KRW 1.2 trillion. About 60% of this is from the battery business. With the first turnaround in the electric vehicle battery sector, they achieved a splendid achievement of joining the 'operating profit 1 trillion club' for the first time. Their annual sales are also likely to be around KRW 13.69 trillion, the highest since their establishment. The company's cumulative operating profit and sales until the third quarter were KRW 801.8 billion and KRW 9.7373 trillion, respectively.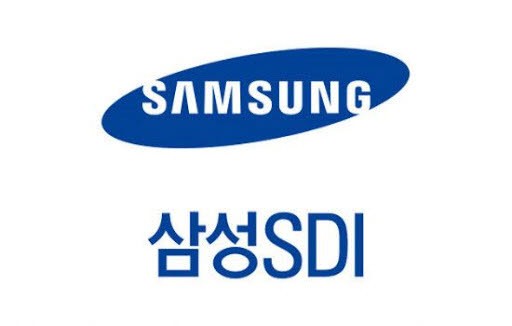 LG Energy Solution is also likely to achieve a surplus of 800 billion to KRW 900 billion, the largest ever based on annual operating profit. Last year, GM's electric vehicle, Bolt, recall and energy storage system (ESS) replacement caused a loss of KRW 1.1 trillion, but most of the cost was offset by receiving KRW 1 trillion from SK Innovation as a settlement for battery lawsuits. LG Energy Solution's cumulative operating profit for the first three quarters of last year was KRW 692.7 billion. Whether or not to join the 'operating profit 1 trillion club' is determined by the fourth quarter performance.

LG Energy Solution made a loss in the fourth quarter of 2020 and the third quarter of 2021 due to recall costs of electric vehicle fires, but entered a profit structure from the second quarter of 2020. Samsung SDI's mid-to-large battery business has been surplus continuously since the second quarter of last year. Since 2009, Samsung SDI and LG Energy Solution have been focusing on R&D and expansion of production plants by investing 1 trillion to KRW 4 trillion every year.

The electric vehicle battery business had a larger investment structure compared to the growth of the market. They have been investing in the future market for about 10 years at a loss. It started to turn around since last year. As the demand for electric vehicles surged due to regulations on eco-friendly vehicles around the world, the battery business began to generate profits. It is analyzed that it has entered a 'tipping point' like the display industry other than semiconductors, which generated astronomical operating profits after turning from a loss to a surplus for several decades. There is also a forecast that a supply shortage may occur around 2025, when the annual sales of electric vehicles exceed 10 million units. Hyun-soo Kim, a researcher at Hana Financial Investment, said, "The order volume for electric vehicle batteries in the fourth quarter of last year did not meet our expectations due to a shortage of semiconductors for vehicles. Although the utilization rate of the mid- to large-sized battery sector has fallen, the annual EV battery surplus is expected to continue."

LG Energy Solution·Samsung SDI 2021 performance forecast (by companies and estimates)

By Staff Reporter Tae-jun Park (gaius@etnews.com)