Domestic fabless, 174 MPW cases this year
110 cases in the 1st and 2nd quarters alone... Making up 63%
Foundry mass production line closed in the first half of this year
Concerns over bottlenecks for
There has been a "red light" on the development of prototypes of domestic semiconductor fabless. This is because the production of "Multi-Project Wafer" (MPW), which supports research and development (R&D) and semiconductor prototype design of various fabless products, is expected to be disrupted.Demand for major fabless MPWs was concentrated in the first half of the year, but most of the foundry mass production lines were closed. Due to the lack of MPW production lines to be provided to fabless, it is feared that core items such as power management semiconductor (PMIC) and display driving chip (DDI) will be hampered by the development of advanced semiconductor products such as artificial intelligence (AI).

According to a survey conducted by the Innovation Center for System IC on MPW demand and timing of 72 domestic fabless companies, including semiconductor design, design assets (IP), and design services, a total of 174 MPW plans were planned this year.Of these, 63% or 110 cases were scheduled in the first and second quarters. MPW is a process of manufacturing multiple semiconductor prototypes on a single wafer using part of the foundry process line and is essential for developing new fabless products.

The demand concentrated in the first half of the year is interpreted as the fabless' attempt to preoccupy the foundry MPW line in a hurry. Last year, a surge in demand in the semiconductor market caused a foundry bottleneck, and there was not enough room to operate 100% of production capacity. In order for fabless to accelerate the development of prototypes, it is necessary to secure MPW lines urgently.

By process, demand for advanced processes (28 nanometers or less) and legacy processes (130 nanometers or more) that manufacture PMIC and DDI for the development of artificial intelligence (AI) semiconductors and application processors (APs) has risen significantly.This is due to the emergence of AI semiconductor development companies one after another and the expansion of some system semiconductor markets such as PMIC and DDI. Demand for MPW was concentrated on Samsung Electronics for high-tech processes, and legacy processes over 130 nanometers were concentrated on DB HiTek and Key Foundry, respectively. Demand for DB HiTek and Key Foundry MPW is expected to increase more than 2.5 times year-on-year.
Demand for MPW has soared, but the foundry production capacity to provide it is far short. According to the industry, four domestic foundry companies (Samsung Electronics, DB HiTek, SK Hynix System IC, and Key Foundry) have completed their process reservations by the second quarter. Some even closed the entire foundry service this year.

Accordingly, MPW is also expected to suffer from bottlenecks. In particular, in the first half of the year, when MPW demand was concentrated, supply and demand mismatching are expected to disrupt the development of domestic fabless prototypes.The lack of investment in the legacy process (8 inches) required by small and medium-sized fabless has caused great difficulties in securing MPW supplies, Innovation Center for System IC said. "Some 8-inch process foundry is predicting a reduction in MPW."
The foundry industry is considering allocating MPW lines as much as possible in response to market demand, drawing keen attention. In particular, Samsung Electronics plans to establish a system semiconductor design support center as a window to communicate with the fabless industry and regularly identify market demands and actively reflect them in MPW plans. DB HiTek and Key Foundry are also planning to flexibly adjust MPW operations in cooperation with fabless industries.

<2022MPW Demand by foundry>

<2022MPW demand and utilization period>

Data - Innovation Center for System IC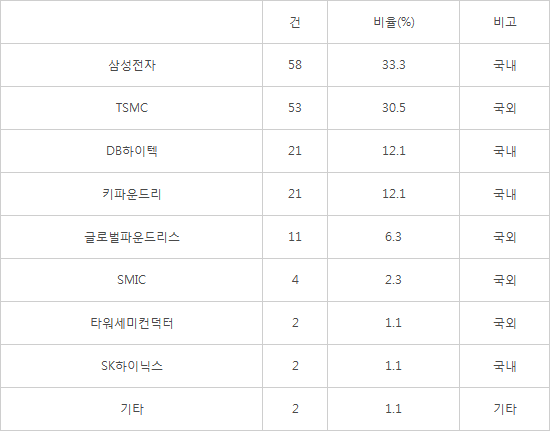 By Staff Reporter Dong-jun Kwon (djkwon@etnews.com)