BeRex, a semiconductor fabless company, developed the first wireless communication semiconductor (DSA) in Korea. Semiconductors control electrical signals to communication equipment such as base stations and relays. BeRex first supplied a semiconductor small multi-chip module (SMCM) for wireless communication equipment equipped with DAS to telecommunication equipment company SOLiD.

Three types of SMCMs (BVA303C, BVA304C, and BVA305C) developed by BeRex were applied to the SOLiD repeater. Semiconductors are multi-type small semiconductors that play a role in amplifying and attenuating electrical signals in repeaters and base station equipment that finely regulate wireless communication signals.

BeRex designed semiconductors and manufactured them through a raised pound semiconductor consignment production (foundry) process. In particular, BeRex developed its own communication chip (DSA) that attenuates SMCM electrical signals. This is the first time DSA has been localized. BeRex has been developing a semiconductor chip (DVGA) that amplifies communication signals, but with this DSA development, it succeeded in developing SMCM on its own.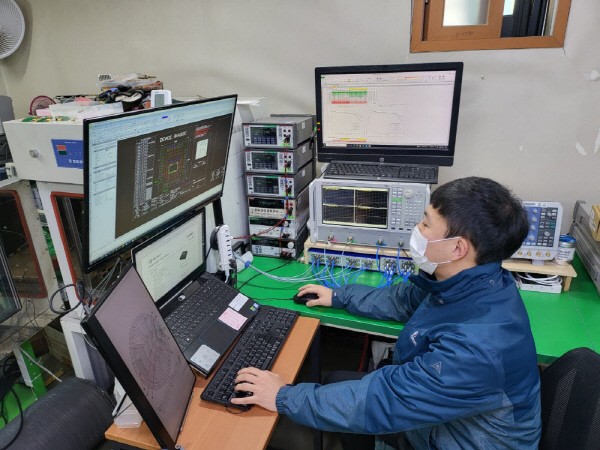 DSA is a 3-volt (V) operating voltage family and is first used in repeaters. Relay machines from telecommunication equipment companies such as SOLiD, Telesys, and CIS Technology can be controlled by accurately attenuating radio frequency signals using this chip. It can be used by all telecommunication businesses such as 5G mobile telecommunication businesses due to its wide range of applications from intermediate frequency bands to 4~5GHz bands.

BeRex also expected to supply 3V products in the equipment market for base stations. It plans to expand the supply of semiconductors for telecommunication by providing them not only to SOLiD but also to domestic and foreign base station companies. BeRex expected the effect of expanding exports to China's 5G mobile telecommunication market and improving costs due to commercialization of its own technology.

<Table> BeRex Wireless Communication Semiconductor Products Features
By Staff Reporter Ji-woong Kim (jw0316@etnews.com)