First implementation of 10Gb download speed
Provision of 5G communication environment without delay
Desktop PC level gaming environment
Reinforcing security, such as screening fake webs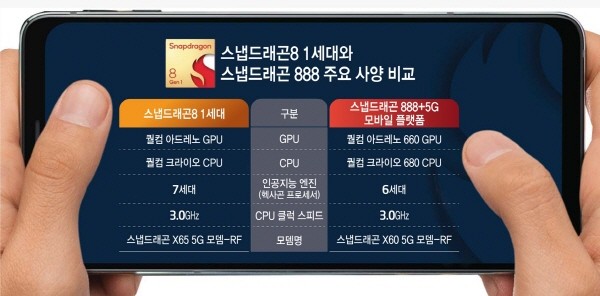 Qualcomm introduced its next-generation mobile platform 'Snapdragon 8 Gen 1'. As the name was newly changed, the direction Snapdragon 8 was also clear. It is the improvement of premium mobile user experience (UX). Qualcomm focused on taking the existing smartphone UX to the next level.

◇ Connection, Camera, Sound, Security, and Game UX have been upgraded.

The mobile experience that smartphone users can feel can be largely compressed into six. Connectivity (communication), camera, sound, security, game, artificial intelligence (AI), etc. Snapdragon 8 maximized this mobile UX.

Connectivity is directly related to communication performance. With the popularization of 5G mobile communication, demand for faster communication without delay has increased significantly. Snapdragon 8 is equipped with a 4th generation Snapdragon X65 5G modem-RF system, achieving the world's first 10-gigabit (Gb) download speed. Wi-Fi performance has also improved significantly. Qualcomm Snapdragon 8 supports Wi-Fi 6 and 6E and can implement up to 3.6Gbps speed.

Qualcomm also demonstrated 8K video calls using 5G millimeter waves at the "Snapdragon Tech Summit 2021". Snapdragon 8 communication performance was highlighted as an 8K video call that requires large-capacity data communication. Kyle Malady, Chief Technology Officer (CTO) of Verizon, delivered a message to the site of the summit event through a video call. CTO Malady said, "I am very happy to make the world's first 8K high dynamic range (HDR) video call with Qualcomm," and emphasized, "With Qualcomm, Verizon will quickly expand millimeter waves and provide new experiences and business experiences to customers."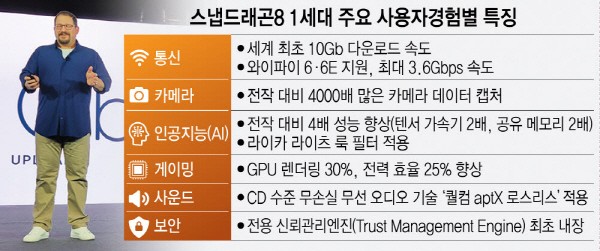 One of the functions that are frequently on smartphones is the camera. According to market research firm Gartner, Qualcomm Snapdragon camera solutions are currently installed in more than 1.6 billion smartphones. Snapdragon 8, which was unveiled during the summit, first applied Qualcomm's own "Snapdragon Sight Technology" to enhance performance. It supports 18-bit image and video processing (ISP) performance and can capture more than 4000 times more image data than the previous one. It also supports 8K HDR video function for the first time on a mobile platform.

It also applied a new bokeh engine. It adds visual aesthetics by easily blurring the background or decorating it beautifully in the portrait mode. Panorama performance has also improved significantly. A panorama photograph of a 140-degree viewing angle can be taken through the Qualcomm Spectra ISP.

Gaming experience has also been raised to the next level to implement a gaming environment at the level of a desktop PC with a smartphone. This is the result of improving the performance of Qualcomm's Adreno Graphics Processing Unit (GPU). Snapdragon 8 has improved graphic rendering function by 30% and power efficiency by 25%, respectively, compared to its predecessor (Snapdragon 888). The Adreno frame motion engine may generate twice as many frames at the same power. Even if you run a high-end game, you can switch screens smoothly as it is highly responsive.

Canadian musician JP Saxe was placed on the keynote speech table at the Summit event to prove Snapdragon 8 sound performance. Saxe said, "The better the sound quality, the clearer we can convey what we want to inform," adding, "It was impressive that Qualcomm tried to convey the feeling of the original sound with (Snapdragon Sound) technology." This evaluation was based on the collected opinions from numerous artists, musicians, and experts on what sound it implements with Snapdragon. Qualcomm maximized synergy by combining Bluetooth 5.2 and Snapdragon sound technology so that users can experience clear sounds. Qualcomm aptX Lossless technology was also applied to implement CD-level lossless sound sources and provide them through wireless communication.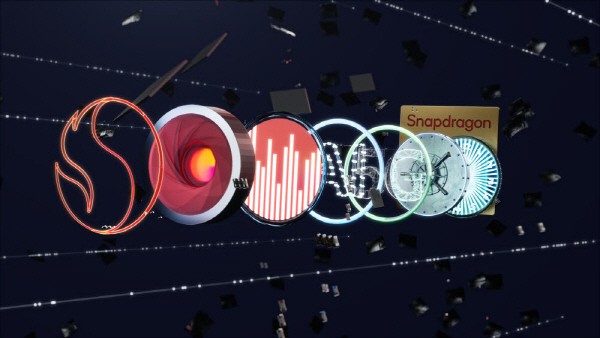 Snapdragon 8 has built-in a dedicated trust management engine for the first time to safely protect user data. High levels of security can be maintained when using smartphone applications or services. For example, it is possible to sort out fake web pages that induce login, verify dangerous mobile base station signals, and minimize security threats.

Snapdragon premium technology is accelerating digital transformation in various industries by leading networking products and the Internet of Things, said Alex Katouzian, Senior Vice President of Qualcomm. "Snapdragon 8 is the next-generation platform to improve UX and help innovate Android smartphones."

By Staff Reporter Dong-jun Kwon (djkwon@etnews.com)