Utilization of metaverse, blockchain, NFT, etc.
Digitalization of cultural art contents
Enhancing artwork security and copyright protection of creators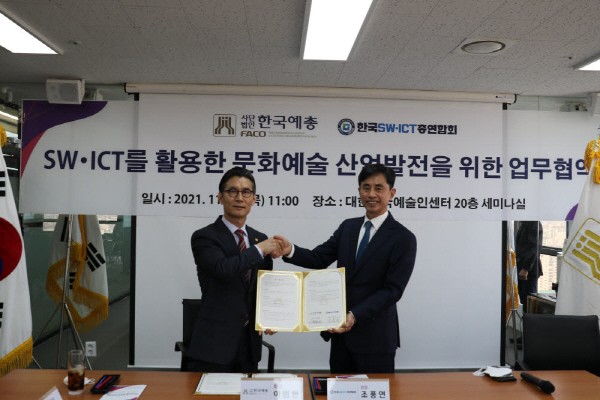 Korea SW-ICT General Association and The Federation of Artistic & Cultural Organization of Korea will cooperate to develop the culture and arts industry using software (SW) and information and communication technology (ICT). It is predicted that it will contribute not only to the development of SW and ICT industries but also to enhancing and spreading competitiveness of new Korean Wave.

Korea SW-ICT General Association and The Federation of Artistic & Cultural Organization of Korea signed a business agreement at the Korea Artists Center in Mok-dong, Seoul, on the 18th.

The two organizations will discover and develop digital intelligence projects for cultural and artistic contents that combine SW and ICT such as artificial intelligence (AI), big data, metabus, blockchain, and irreplaceable tokens (NFT).

It will continue to cooperate in interchange and innovative growth policy projects between the digital industry and the culture and arts industry, such as strengthening digital culture and arts policy capabilities that incorporate SW and ICT.

In the global cultural market, the Korean Wave Fever is strong in movies, dramas, music, games, and webtoons. The field will also expand to fashion, food, and hair.

Last year, the government announced that it will jointly establish a "Comprehensive Plan for New Korean Wave Promotion Policy" with related ministries and promote the diversification of Korean Wave contents, shared growth in related industries, and the formation of a foundation for sustainable Korean Wave spread.

If digital technologies such as AI, big data, and metabus are added, the government's policy to spread new trends is expected to gain momentum. Blockchain and NFT can also be used to strengthen the security of cultural and artistic works and copyright protection for creators.

In addition, it can be an opportunity for related companies to enter the global market by promoting Korea's SW and ICT capabilities. It is also possible to find a new market that combines ICT and culture and arts.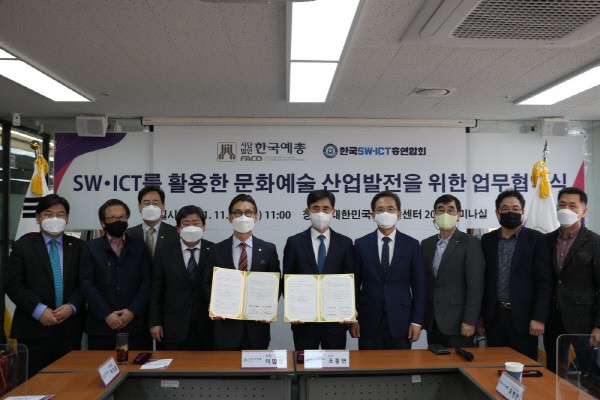 Poong-yeon Cho, chairman of Korea SW-ICT General Association, said, "The first cooperation between the digital industry and the culture and arts community will greatly contribute to the development of convergence and growth between industries during digital transformation and innovation." And "Through the discovery and promotion of digital and artistic convergence (intelligence rights, data utilization, etc.), there will be creation of new economic values in digital culture such as AI, data, and NFT."

Bum-heon Lee, chairman of The Federation of Artistic & Cultural Organization of Korea, said, "The cultural and artistic capabilities of the Korea Arts Federation with 60 years of history and 100 cooperatives and organizations of SW and ICT will open a new market for art and culture creation and consumption."

In line with the changes of the times, culture and arts should also be closer and more convenient to the people, he added. "We hope that culture and arts and cooperation, which are starting with the agreement, will play a significant role in expanding the right to enjoy national culture."

The signing ceremony was attended by officials from both organizations, including Chairman Cho and Chairman Lee, Chairman of the Korea SW Property Right Council, Byong-han Yoo, and Chairman of the Korea Data Industry Association Hyung-chil Lee.

By Staff Reporter Ho-cheon An (hcan@etnews.com)