Segmentation of target markets by affiliates
Kia, in charge of military vehicles and power generation
Hyundai Mobis discovering non-vehicles such as forklifts
Hyundai Motor Company develops 3rd genera
The background of the electric vehicle roadmap revealed by Kia is interpreted as the will of Hyundai Motor Group to mobilize their company-wide full capabilities to quickly dominate the hydrogen fuel cell market. It will focus on all areas that require hydrogen energy by sharing the roles of major affiliates such as Hyundai Motor Company, Kia Motors, and Hyundai Mobis. The Hyundai Motor Group is the only one to manufacture from finished products to parts for passenger, commercial, military, and industrial use. Ultimately, it is based on a strategy to lead the transition to a hydrogen economy by providing the possibility of replacing fossil fuels with hydrogen energy.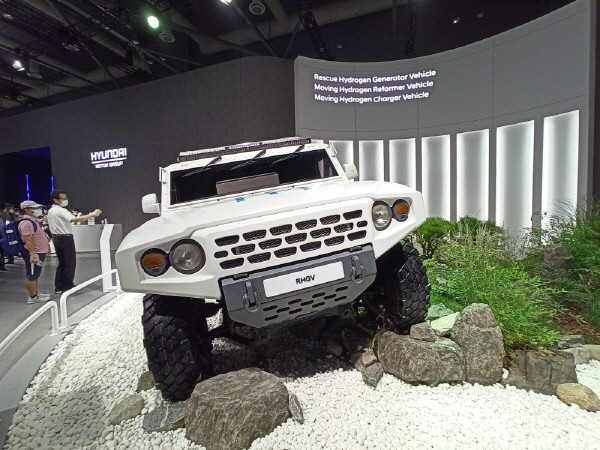 Hyundai Motor Group has set the target market for each affiliate of the group as △Hyundai Motor 'Passenger/Commercial Vehicle' △Kia 'Military Vehicle/Power Generation' △Hyundai Mobis 'Industrial Vehicle/Construction Machinery'. Prior to mass production of hydrogen fuel cells, each company shared its role with the target market and started to discover the market.

Kia plans to release Carnival sized hydrogen electric vehicle in 2028 and is in charge of military vehicles and power generation within the group. It will convert the existing internal combustion engine-based military vehicle lineup to hydrogen electric vehicles. Starting with commanding vehicles and military trucks, the company plans to supply power for advanced weapon systems using hydrogen fuel cells. Hydrogen electric vehicles are competitive for military use since they generate low noise. Regarding power generation, it is possible to make power generation vehicles as well as hydrogen fuel cell-based mobile generators that will supply power in the field. Kia Motors has already announced its entry into the market by unveiling a vehicle prototype for power supply using hydrogen fuel cells.

Hyundai Mobis, which is in charge of mass production of hydrogen fuel cells, is also participating in market discovery. It is targeting the non-vehicle sector through the hydrogen fuel cell power pack business. A 50·30 kW hydrogen fuel cell power pack was developed using a hydrogen fuel cell stack. They are targeting mid-to-large forklifts, 14-ton excavators, special airport vehicles, small forklifts, and cargo-type drones. It will generate another economy market if the demand for hydrogen fuel cells increases. Even if the required specifications for each application field are different, the performance can be matched by using a plurality of hydrogen fuel cell stacks. This is the background behind the fact that Hyundai Motor Group affiliates shared their roles and started discovering various sources of demand.

Prior to this, Hyundai Motors developed the 3rd-generation hydrogen fuel cell system with 100kW and 200kW, and Hyundai Mobis plans to build a new basewith 1.32 trillion KRW and start operation from 2023. Based on the recently announced investment amount alone, it is expected to increase the production scale to more than 50,000 units per year. The annual production of hydrogen fuel cells at the existing Hyundai Mobis Chungju plant was only 3,500 units. They plan to produce 500,000 units by 2030.

Recently, Hyundai Motor Group announced that it would supply hydrogen fuel cells to other companies, but the production volume is still not enough and export process is difficult. Hydrogen fuel cell is a national core technology and must be approved by the government when exported. For this reason, the strategy is to develop a variety of hydrogen mobility markets that can be used in Korea.

Hyundai Motor will focus on applying the hydrogen fuel cell system to existing vehicles by each affiliate. First, they will target commercial hydrogen electric vehicles, which have a large carbon reduction. By 2028, hydrogen fuel cells will be applied to all commercial vehicle lineups. As the supply of hydrogen fuel cells increases, the number of passenger car models will also increase. Hydrogen electric vehicles for passenger use will also be increased from one type of medium-sized sports utility vehicle (SUV) 'Nexo' to three types. Multipurpose vehicle (MPV) Stariaclass derived hydrogen electric vehicle model and large SUV will be added.

【Table】Hyundai Motor Group's Hydrogen Mobility Business Areas

By Staff Reporters Tae-jun Park(gaius@etnews.com), Jin-hyung Park(jin@etnews.com)