3.5 million units shipped in the first half… 80% of last year
Preparing to expand production capacity and foster high-profit businesses
'Earning Surprise' 2Q operating profit of 700 billion KRW
OLE
LG Display has finally reached surplus in the large-scale organic light emitting diode (OLED) panel business. LG Display is the only company in the world to mass-produce large OLED panels used in TVs, but it has not been profiting due to delays in market enlightenment and disruptions in production and supply. LG Display's large OLED turn to profit is drawing attention as it heralds stabilization of business restructuring and full-fledged growth.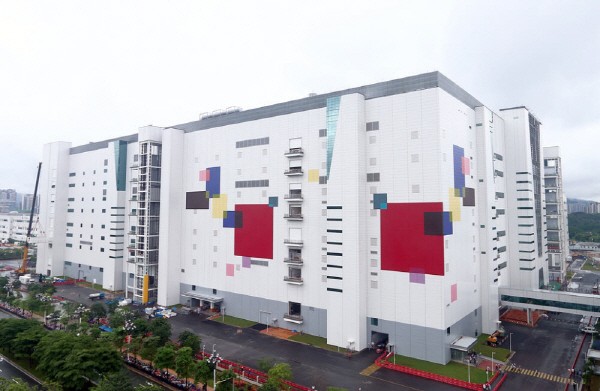 At the 2Q earnings briefing on the 28th, LG Display announced that it is expected to achieve a profit in the large OLED business in the second half of the year.

The company said, "In the first half of the year, we already shipped 3.5 million units, which is more than 80% of last year's annual shipment, and we expect to achieve our annual sales target of 8 million units this year."

LG Display further emphasized that "Next year, we are aiming to achieve an operating profit margin percentage of more than the mid-single digit and a double-digit operating margin percentage in the mid-to-long business plan."

If LG Display achieves a profit in the large OLED business in the second half of the year, it will be the first big change in last eight years. LG Display mass-produced the world's first large OLED in 2013. As the liquid crystal display (LCD) market has turned into a red ocean, they started aiming for the next-generation TV market and trying to win the battle for OLED.

However, the difficulty in mass production of OLED is high and the penetration into the TV market is delayed. Even with large-scale investments, losses piled up because of no positive results, and to make matters worse, the existing LCD market deteriorated, which led to restructuring of LG Display.

However, as OLED gradually spreads to premium TV panels, an opportunity has arisen. 19 TV brands such as Sony, Panasonic, and Vizio have chosen the panels that were supplied only to LG Electronics, the holding company. In addition, it is interpreted that the OLED panel unit price cut due to the strengthening of yield and production capacity and the price gap with LCD, which has skyrocketed after COVID 19, has been narrowed and finally started to turn into a profitable business.

LG Display's large OLEDs have been in the loss market for the past 8 years, except for a one unexpected surplus for about a quarter.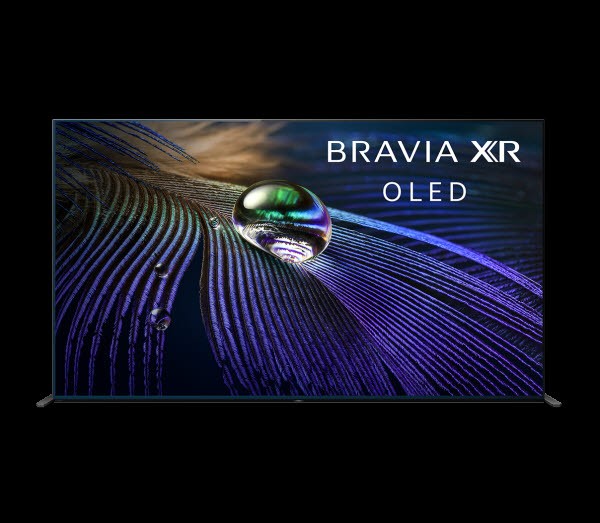 LG Display plans to nurture large OLEDs as a high-profit business by driving momentum. The company hinted at the possibility of further expansion.

Dong-hee Seo, Executive Director (CFO) of LG Display, said, "If the final decision is made to expand the 30,000 units per month of the Guangzhou OLED plant, the supply system for large OLEDs will be 10 million units next year and 11 million units in the year after."

Meanwhile, LG Display recorded an 'earnings surprise' in the second quarter of this year with an operating profit of more than 700 billion KRW. It is the first time in four years since the second quarter of 2017 that operating profit exceeded 700 billionKRW. Sales reached 6,965.6 billion KRW, a record high as of the second quarter.

Dong-hee Seo, Executive Director, said, "The good performance in the second quarter is not only a result of the favorable LCD market conditions but also the normalization of the OLED business. TV LCDs account for about 15% of company's sales."

LG Display's business is largely divided into large OLEDs for TVs, small and medium-sized OLEDs for smartphones, and LCDs for PCs (laptops), monitors, and TVs. LCD for TV is shrinking due to the transition of OLED business, but LCD for PC and monitor continues to be ahead in technological competitiveness.

The small and medium-sized OLED business is also on a growth trajectory since the supply of iPhones to Apple in 2017, and LG Display announced that it is also considering expansion of small and medium-sized OLEDs. This is interpreted as a response to Apple's demand.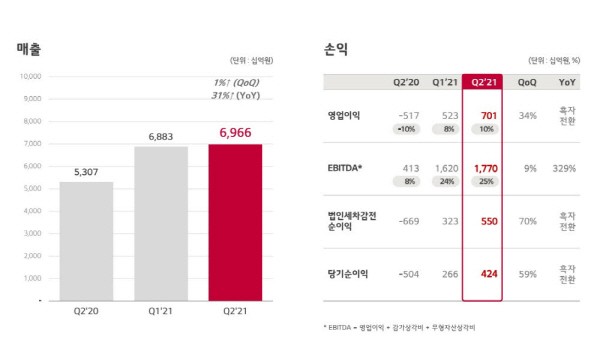 By Staff Reporter Gun-il Yun(benyun@etnews.com)