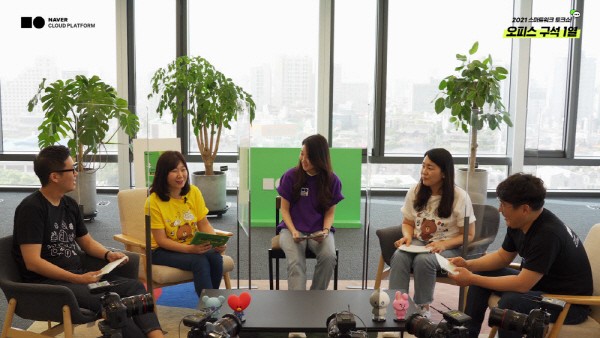 After COVID-19 pandemic, the importance of cooperation and collaboration have grown as many companies have started working from home and remotely. Many solutions for collaboration have presented that increase work efficiency in the midst of the pandemic.

Naver Cloud introduced 'Naver Cloud for SMARTWORK' in April by tying together various business applications (apps) owned by NAVER. It has expanded available options suited for each company's desired functions. Within the two months of Naver Cloud for SMARTWORK's launch, it secured major customers in each field, and became a topic of conversation.

◇'Vertical Solution' specialized for each industry

Naver Cloud has established a plan to target the market by segmenting areas that existing overseas companies have overlooked and have not been able to deal with. Naver determined that synergies could be created by converging various services at the company level. Naver was able to differentiate itself from global operators by designing a 'vertical solution' for each specialized industry, which integrated its technology and its know-how used in various services and solutions into one.

Naver Cloud for SMARTWORK is a NAVER's archetypal 'vertical solution.' Although, strictly speaking, it is not a new product, it is a package product created by combining different business apps owned by Naver and a total solution that bundles various necessary business functions for corporate operation.

Naver Cloud for SMARWORK provides all of Naver's core solutions, 'Naver Works,' 'Workplace,' and 'Workbox' Customers can select and combine various functions. Naver Works is a collaboration tool to assist in running a business, such as mail, messenger, calendar, and video conferencing, and it is already used by 200,000 customers globally. Naver Works is known as 'Line Works' in Japan, and has been ranked as No. 1 in the Japanese collaboration tool market for 4 consecutive years. Through continuous updates, Naver Works continued to change the design of the mobile user interface (UI) and user experience (UX) to be more intuitive, and provided and strengthened its convenience and security.

Workplace is a solution that consists of Naver's 20+ years of innovative business and management know-how. It supports the actual operation of the business, such as electronic approval, human resources, accounting, and expense processing. It is also useful for companies that entering global business since it applies the domestic Labor Standard Act, and supports different time zones and many languages, such as Japanese, Chinese, English, etc.

Workbox is a specialized solution for global file sharing. It is a useful tool to share files securely with the same quality anywhere in the world.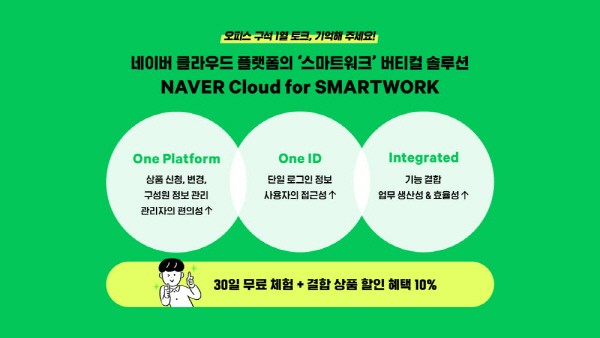 ◇Increase corporate efficiency with 'all-in-one package'

Naver Cloud for SMARTWORK connects three major corporate collaboration services, and displayed Naver's strengths in artificial intelligence (AI) and cloud technology. With the combined services, companies can customize by using not only the benefits of Naver Works, but also that of Workplace and Workbox.

The main benefit of Naver Cloud for SMARTWORK is that it uses the Naver Cloud Platform. It has an easy management and security system since it operates in the same platform. Having just one login for a platform enables to use all functions, such as mail, video conference, messenger, file sharing, and attendance management. This eliminates possible complications when using different platforms for each function. It also reduces tedious tasks by automatically upgrading and downgrading the product. Service application and linkage, bill payment, and customer service can also be operated in one channel.
Another benefit of Naver Cloud for SMARTWORK is increasing synergy by linking various functions between services. It automatically processes all data of linked employment information, such as entry/exit, absence, vacation, business trips, and calendar information, in each solution. In addition, it improves work efficiency by performing Workplace's various functions, such as payment notification, approval, commuting input, and expense processing, through Naver Work's Message with the help of a new function, 'WorkTalk.'

Naver Cloud for SMARTWORK has incorporated the AI technology, which is Naver's strong suit, significantly. Technologies such as interpretation and translation, optical character reading (OCR), and chatbots that can be used in business apps have been introduced. The OCR technology is able to obtain all the necessary information by scanning a business card, and eliminates the tasks of filling in information, such as last and first name, company, department, job title, phone number, and e-mail address. Naver Cloud for SMARTWORK also allows linking internal and external solutions, such as human resources, accounting, and electronic approval.

Naver Cloud plans to add functions that take into account of various business issues, such as working from home and remotely, outside work, and field work through continuous regular updates. It introduces AI technology that improves work efficiency and convenience, and supports linkage between third-party solution and Naver Works.

Naver Works and Workplace were selected for the telecommuting sector of the 'K-non-face-to-face service voucher' business this February. Companies can search for and select the desired solution on the 'K-non-face-to-face voucher platform.' And in case of purchasing the service, 90% of Workplace and Naver Works fees are subsidized up to 200 million won. 95% of business that used Naver Cloud solutions responded that they would like to continue to use the services even after closing the business due to various functions, convenient configuration, and service stability.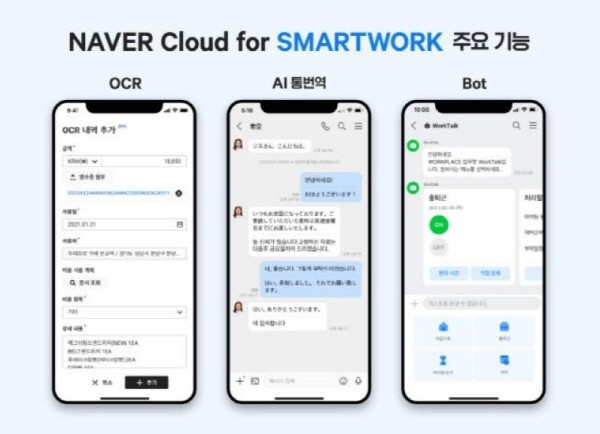 By Staff Reporter JiSun Kim river@etnews.com