"The core surface treatment system set up within TTS's place of business in Cheonan is made through the company's individual technique."
CEO Lim Yoo-dong of TTS, which manufactures parts for semiconductor and display equipment, who met with the Electronic Times at the company's place of business in Cheonan on Wednesday showed great confidence in the company's surface treatment technique.
Work related to back-end processes mainly takes place at the company's place of business in Cheonan, which is located within the Pungse Industrial Complex. Tens of baths that are placed at an equal distance from each other are operating on full scale.
Once electric reaction occurs after susceptors that have gone through front-end process are placed inside these baths that are five meters deep and are filled with chemicals, films with constant thickness are created when the chemicals react with the surface of susceptors. Such surface treatment process is called anodizing.
TTS has successfully differentiated itself from other companies by developing 'large-surface barrier-type anodizing' technique that can also be used for parts of display equipment.
Susceptor is a material that is located inside of display panel manufacturing equipment and applies heat to panels. It is important to keep these panels from corroding even at a very high temperature, and anodizing process strengthens durability of panels much more.
Susceptors that are ready to go through anodizing process can be found throughout the company's place of business in Cheonan that is 2,750 pyeong.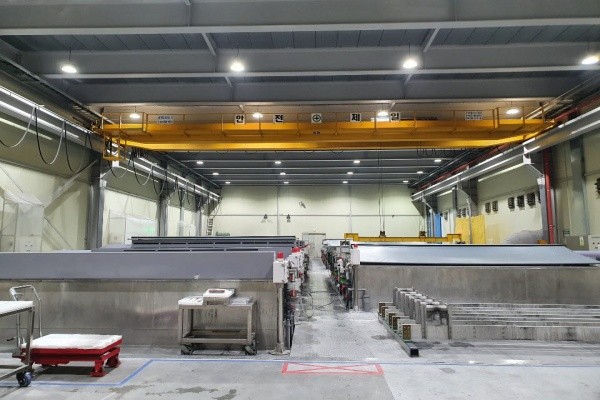 There are new susceptors that are waiting to go through anodizing process as well as used susceptors that had been utilized by South Korean display makers that are waiting to go through recycling process so that they can become like new susceptors again. Besides susceptor, TTS performs back-end process on various materials such as diffuser, frame, and electrostatic chuck so that they can become stronger and more detailed materials.
When the Electronic Times visited TTS's place of business in Cheonan, there was a machine that carefully checked whether there is any dust in fine holes of diffusers as well as a robot that rapidly washed and cleaned materials after they had gone through back-end process. There was even a 250-pyeong smart cleanroom where materials are used to reassemble manufacturing equipment after they go through back-end process.
CEO Lim explained that his company provides solutions that can perform surface treatment on new products and clean used display manufacturing equipment so that they can look like new equipment again.
After the company entered the surface treatment field in 2010 and built the place of business in Cheonan in 2016, it has been focusing on securing competitive edge in surface treatment process. Sales from surface treatment process on materials used for display and semiconductor equipment take up 60% of its overall sales.
TTS plans to focus its manufacturing capability to its place of business in Cheonan. Its goal is to move manufacturing equipment from its place of business in Hwaseong, where its headquarters is located, to Cheonan and operate advanced facilities that can perform front-end and back-end process as well as recycling process by end of this year.
"Besides susceptors, we are currently accelerating diversifying our sources of sales by developing and manufacturing aluminum nitride that is utilized for semiconductor equipment." said CEO Lim. He emphasized that his company will look to emerge as a manufacturer that specializes in core expendable materials used for semiconductor and display equipment.
Staff Reporter Kang, Hyeryung | kang@etnews.com