Taihan Electric Wire, which is the second biggest cable manufacturer in South Korea, made the acquisition of the company by the Hoban Group official and has set out to make a new leap forward. Taihan Electric Wire plans to complete the acquisition process and strengthen its competitive edge in related industries such as new and renewable energy, electric vehicle, and optical communication.
Taihan Electric Wire announced on Tuesday that it held an acquisition event called 'New Taihan in Hoban' at the Hoban Park in Seocho-gu. Chairman Kim Sang-yeol of Hoban Foundation, Chairman Kim Seon-kyu of Hoban Group, President Kim Dae-hyeon of Hoban Construction, CEO Na Hyung-kyun of Taihan Electric Wire, and Chairman Kang Jin-yeon of Taihan Electric Wire's labor union were in attendance at the event.
"Taihan Electric Wire and the Hoban Group have joined forces to maintain competitive advantage in cable and solution businesses." said CEO Na Hyung-kyun. "Taihan Electric Wire will continue to prove that the company will be able to make a growth each and every day."
Hoban E&C became the major shareholder of Taihan Electric Wire on May 18. Hoban E&C signed a contract for stock acquisition with Nike back in March and paid the balance from the stock transaction. Hoban E&C now has 40% of Taihan Electric Wire's issued stocks.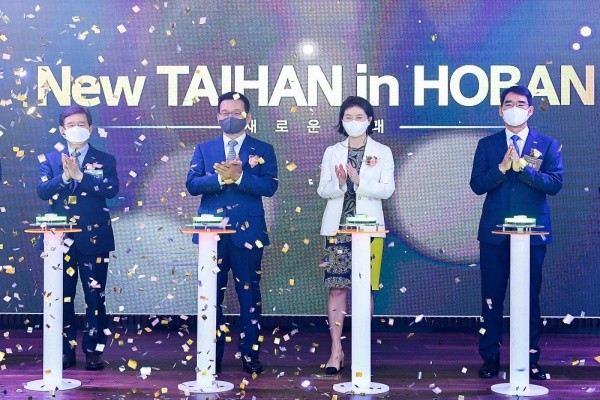 Taihan Electric Wire is the second biggest cable manufacturer in South Korea and is a leader in the global high-voltage cable market. It became the first company to manufacture 500 kV cables and started exporting the cables in 2011. It had obtained major projects from overseas one after the other and it made its biggest semiannual operating profit in the first half last year.
During a board of directors meeting that was held right after a temporary general meeting of stockholders was held, Taihan Electric Wire appointed President Na, who used to be an executive officer, as the new CEO.
CEO Na became the senior vice president in 2015 and was appointed as the president in 2019 for his contribution in normalizing the company's management. He plans to create synergy with the Hoban Group after being acquired by the group. It is expected that company will increase supply of its products by supplying electric wire and cables for EPC (engineering, procurement, and construction) construction businesses in South Korea and other countries. It is also expected to expand its new businesses such as HVDC (high-voltage DC) and submarine cable businesses that are growing at a rapid rate through the Hoban Group's financial capability.
CEO Na said that Taihan Electric Wire will continue to develop its cable business through R&D, increased investment in facilities, and local production and strengthen its competitive edge in related industries such as new and renewable energy and optical communication. He also said that the company will open up a completely new future by becoming a total energy solution provider for energy and electric power industries.
"We are pleased that Taihan Electric Wire, which has half a century of history in cable manufacturing, has become one of our family members." said Chairman Kim Seon-kyu of the Hoban Group. "Our group will not hesitate to provide necessary support so that our group and Taihan Electric Wire can rise to the top of the fields of cable and energy and electricity."
Staff Reporter Kim, Jiwoong | jw0316@etnews.com