As more companies are utilizing contact-free ways to perform their work due to the COVID-19 pandemic, companies are also starting to utilize electronic contracts over paper contracts.
An electronic contract service provider called Glosign (CEO Lee Jin-il) announced on May 1 that it signed a supply contract of its service with the Korea Certified Public Labor Attorneys Association. Glosign plans to provide its electronic contract service to about 15,000 workplaces that are part of the association.
Glosign provides a smart electronic contract service that allows companies to easily sign their contracts through either KakaoTalk or e-mail rather than using an inefficient paper contract.
Its electronic contract service is expected to be linked to a wage outsourcing system called i-Pay operated by the association. I-Pay manages wages as well as four major insurances and it is currently used by 300 or so labor corporations and it manages about 15,000 workplaces and 200,000 workers.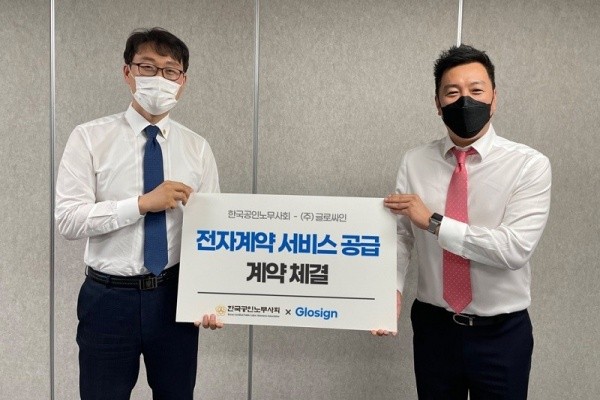 The association plans to utilize Glosign's service for various purposes such as preparation of employment contract and pension statement and other simple documents as well. Glosign's service will allow the i-Pay system to effectively perform contract signing and collection of signatures. It is also expected to be applied to members of the association that do not use the i-Pay system in the near future.
Seo Jin-bae, who is the secretary general of the association, said that the reason why the association decided to go with Glosign's electronic signature service is because the company's service has the most API/SDK list compared to other companies' products and its method of use is highly efficient for electronic contracts.
CEO Lee Jin-il of Glosign said that he is confident in quality and technical skill of the company's electronic contract service and that he would do everything he can to create an effective contract signing environment for many institutions and companies through the company's service.
About 8,000 companies such as Kakao, eBay, Yuhan Corporation, and Handok are currently using Glosign's service. Public agencies such as Gangnam-gu Office and Seongnam Development Corporation are also using the company's electronic contract service.
Staff Reporter Lee, Hyangseon | hyangseon.lee@etnews.com