TILON (CEO Choi Baek-jun and Choi Yong-ho) that specializes in cloud virtualization and PND I&C (CEO Choi Kyung-tae) signed an agreement on Sunday and announced that they would start targeting the VDI (virtual desktop infrastructure) and DaaS (desktop as a service) markets.
PND I&C is currently expanding its business towards network virtualization and cloud network comprehensive consulting with network and security construction business at the center for companies such as telecommunications companies, media companies, financial institutions, and public institutions.
TILON looks to grab an upper hand in South Korea's digital workplace market that is currently shifting towards VDI and DaaS by strengthening its partnership with national partners such as PND I&C and maintain a high growth trend overseas as well.
As importance of digital workplace continues to be emphasized due to COVID-19, cloud-based services are expected to make growth continuously. According to Gartner's data, DaaS has been showing the highest growth trend and it showed a 95.4% growth trend globally in 2020.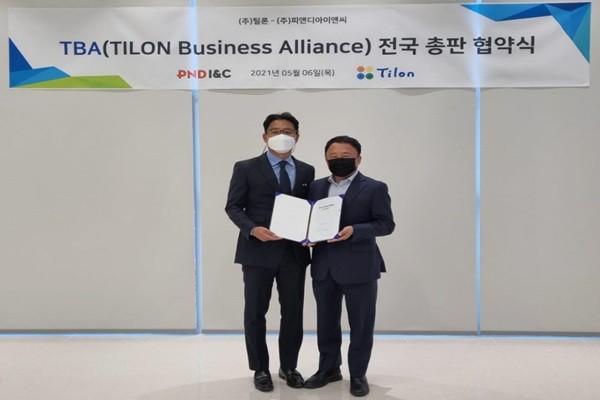 "Our technologies in smart workspace and cloud transition businesses have already been recognized by many different industries in South Korea and other countries." said CEO Choi Baek-jun of TILON. "We will look to target the market on full scale by working with PND I&C that is a leader in the network and security construction market."
CEO Choi Kyung-tae of PND I&C said that the company will look to secure a variety of customers through more aggressive customer approach by utilizing TILON's solutions and make another leap in growth.
Meanwhile, TILON will hold an event called '2021 DAVID Day' on May 12. The company will introduce new products suh c as next VDI solution and DaaS service, zero appliance for establishing a zero-trust environment, and an open cloud OS (operating system) called 'K-cloud OS'.
Staff Reporter Ahn, Soomin | smahn@etnews.com