Samsung SDS announced on Sunday that its 'AI-based intelligent solution for contact center (AICC)' is starting to be used widely with industries such as manufacturing, finance, and service at the center.
The AICC is an intelligent solution for contact center that improves work efficiency and level of satisfaction of customers by applying AI technology-based virtual consultation and consultation analysis features such as NLU (natural language understanding), STT (speech to text), and TA (text analysis).
Samsung SDS's NLU technology allows an AI to quickly and accurately understanding the intention of a conversation and provide consultation accordingly. Its technology is recognized worldwide as the company won first place at various AI MRC (machine reading comprehension) competitions such as MS MARCO and KorQuAD 1.0 and 2.0.
Once inquiries are received by the AICC, an AI chatbot or callbot perform various tasks. Difficult inquiries such as request for technical support will be automatically connected to professional advisers while an AI bot will interpret the conversation and automatically recommend the best answer or contents depending on the situation. Afterwards, the bot will analyze VoC (voice of customer) in real time and automatically evaluate information about the consultation and improve quality of consultation for next time.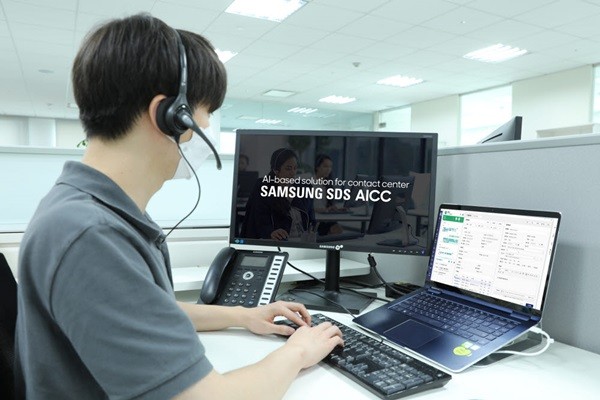 Samsung SDS explained that its AICC will reduce simple and repetitive tasks by at least 50% for advisers, reduce time of consultation by 20% by categorizing types of inquiries and recommending best answers, and help companies utilize new product planning and marketing by analyzing conversations.
If the AICC is applied to insurance companies, the solution will be able to raise efficiency of consultations by monitoring quality of calls and entire sale of insurance.
In fact, a global high-tech company that currently uses the AICC has an AI provide information of products and guidelines for consultation to advisers through real-time analysis on conversation and automatically recommend information of various promotions as well.
Hong Hye-jin, who is the head of Samsung SDS's Solution Business said that the company will continue to upgrade the AICC by applying latest AI technologies and actively expand the AICC business mainly through industries such as manufacturing, finance, and service.
Staff Reporter An, Hocheon | hcan@etnews.com