Iljin Materials has been reportedly working on commercialization of 'solid electrolyte', which is seen as an important material for next-generation all-solid-state batteries and it plans to commercialize it in 2025 at the earliest after building production lines in 2023. The company's strategy is to gain a lead in the electric vehicle battery materials market by pushing solid electrolyte as well as copper foil for electric vehicles as its two core businesses.
Solid electrolyte is an important material for all-solid-state batteries that use solid electrolyte instead of liquid electrolyte that helps electrons moves within batteries. It is seen as an alternative to lithium-ion batteries that use liquid electrolyte that carries a fire risk.
Iljin Materials plans to build solid electrolyte production lines at its plant in Iksan in 2023 at the earliest. Its Iksan plant is its biggest production plant and it currently makes 15,000 tons of copper foil annually. There is also a laboratory designed for development of battery materials. It is reported that the laboratory is working on sulfide-based solid electrolyte. Such electrolyte has excellent ion conductivity and is also excellent for increasing battery energy.
However, there is yet to be any company that mass-produces sulfide-based solid electrolyte. As such, being able to mass-produce such electrolyte is seen as the biggest obstacle and this is why the battery materials industry is accelerating in development of core technologies and establishment of mass-production system.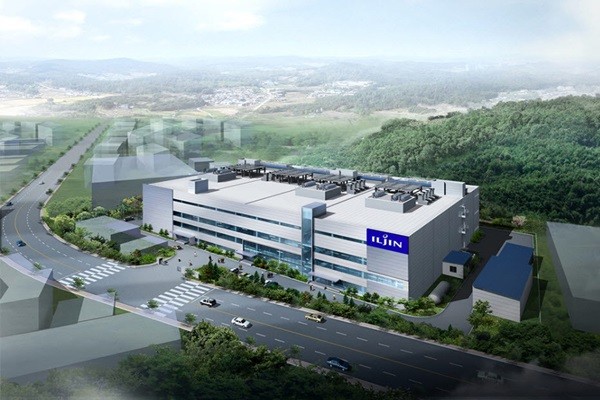 It is reported that Iljin Materials is working on development of sulfide-based solid electrolyte based on its copper foil manufacturing technology. The company along with SK Nexilis and Chang Chun based in Taiwan are the three leaders in the global copper foil market for electric vehicles. SK Nexilis and Solus Advanced Materials have been actively investing in facilities in Europe and the United States and developing related technologies.
Iljin Materials has been speeding up launching of new businesses. In addition to copper foil and solid electrolyte, it is also working on LMO (lithium, manganese, oxide) cathode material and others in order to diversify its electric vehicle battery materials business and ultimately grab an upper hand in the market. Its goal is to apply sulfide-based solid electrolyte to all-solid-state batteries in 2025 at the earliest. The company is currently working with the Korea Electronic Technology Institute (KETI) while Samsung SDI is participating as a customer of a national project. Once Iljin Materials is finished with development of sulfide-based electrolyte, the KETI will start making electrodes combined with all-solid-state battery materials. Samsung SDI plans to apply the electrodes to all-solid-state batteries and conduct tests in 2022 at the earliest. It is reported that Iljin Materials will start working on establishing a mass-production system at its Iksan plant once it finishes development of sulfide-based solid electrolyte.
It is reported that companies such as Enkem, CIS, Dongwha Electrolyte, and Meere Comppany are also pushing for development of related technologies for production of electrolyte for all-solid-state batteries.
A representative from the industry said that many South Korean battery materials manufacturers have been actively working on development of related technologies in order to commercialize all-solid-state batteries and that they are looking for business opportunities in next-generation battery markets in accordance with growth of the electric vehicle market.
Staff Reporter Kim, Jiwoong | jw0316@etnews.com