Infranics was awarded for the IT service category from the 1st Public Sector Software Award. Inswave Systems, B2EN, Securelink, and Intellivix were awarded for the commercial software (SW) category.
The Public Sector Software Award is hosted by two councils and is ran by Korea Commercial Software Association (Chairman Song Young-seon), Korea IT Service Industry Association (Chairman Park Jin-guk), and Korea SW & ICT Federation (Chairman Cho Poong-yeon).
The five government agencies made an agreement in June last year when the SW Industry Promotion Act was completely amended and they were exchanging memorandums of understanding to hold the award ceremony in accordance with improvement in competitive edge of the SW industry that is at the center of digital transformation.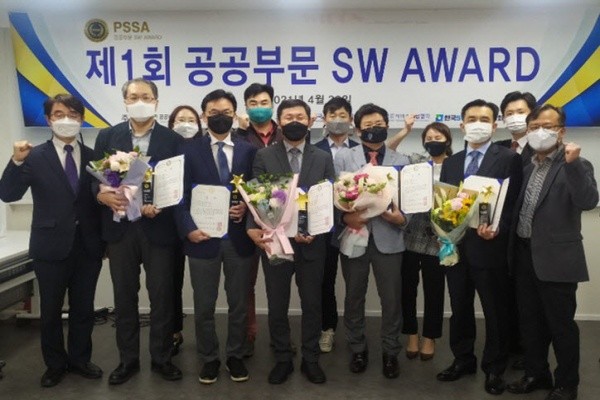 For the category of IT service, Infranics' comprehensive cloud service 'Systeer G-Cloud' was awarded. For the category of commercial SW, Inswave Systems' 'Web Square 5', B2EN's 'SDQ', Securelink's 'Ransom Keeper', and Intellivix's intelligent image analysis solution were awarded.
Shin Jae-soo, who is the chairman of the two councils that hosted the award, said that the five companies and their outstanding solutions and services that have contributed to development of South Korea's public SW field after strict evaluation and that the council will provide maximum support so that the solutions and services will be used throughout the public sector.
Chairman Ju Yang-geun of the other council said that his council will also put in effort to establish and develop a healthy SW industry by working with IT service and commercial SW companies.
Staff Reporter Kim, Jiseon | river@etnews.com