SK Hynix's future moves are drawing attention as Vice-Chairman Park Jung-ho (president of SK Telecom) who oversees ICT (information communication technology) of the SK Group said that SK Hynix plans to increase its investment in its foundry business. Because foundry is emerging as a key business that will change the global semiconductor market as a global issue of short supply of semiconductors is expected to continue for a while, direction of SK's future investments is drawing attention.
Vice-Chairman Park met with reporters at the World IT Show (WIS) 2021 that began on Wednesday and told them that it would be necessary for SK Hynix to invest in foundry. He said that his company has been receiving requests from South Korean fabless companies about providing them with same level of foundry service as TSMC and that he is thinking about increasing investment in foundry.
The fact that he emphasized cooperation with South Korean fabless companies indicates that there is a possibility that SK Hynix would increase investment in foundry fabs located in South Korea.
SK is currently operating a foundry fab and is participating in a stake of another foundry fab. This foundry fab belongs to Key Foundry that SK and SK Hynix's subsidiary SK Hynix System IC acquired last year through a private equity fund.
SK Hynix System IC is currently transferring equipment from the fab to a plant in China in order to target China's fabless market. Once the work is done early next year, there will be unused space at SK Hynix System IC's M8 plant in Cheongju. Key Foundry has 'M4' fab in Cheongju that is capable of manufacturing 82,000 8-inch wafers in a month.
AS a result, it is most realistic that SK will utilize SK Hynix System IC's fab and Key Foundry's fab first if it looks to increase the size of its foundry business in South Korea. Although the M4 fab does not have any unused space, the fab can have its production capacity increased with upgraded equipment.
One official from the industry said that there is a great chance that SK will look to spur its foundry business with the M8 and M4 fabs at the center and while looking for ways to reutilize current equipment and processes.
There is also a chance that SK will build a brand new fab by building new foundry lines at Yongin's semiconductor cluster where SK Hynix's huge fab is going to be built. SK Hynix is scheduled to start the construction starting from 2023. More than 50 domestic and foreign partner companies will join SK Hynix in the semiconductor cluster project.
Although it will take some time before the fab is built and operated, there is a chance that SK will also install 12-inch wafer production lines and foundry lines that utilize cutting-edge EUV (extreme ultraviolet) process in the cluster.
According to the industry, it believes that it is not impossible for SK to build a brand new fab as it is reportedly considering investing billions of dollars in foundry business.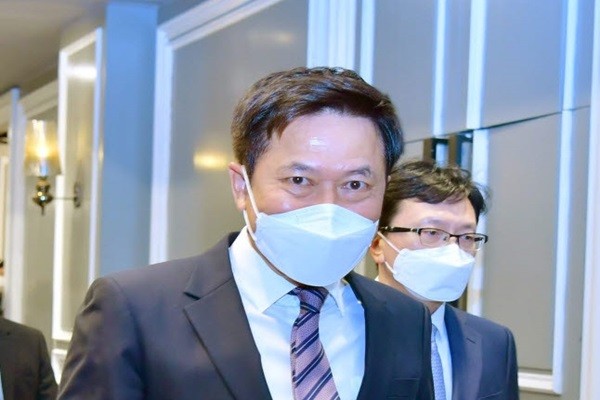 There is also a possibility of major merger and acquisitions.
Vice-Chairman Park met with reporters on April 15 and said that the semiconductor market is going through a huge change and that it is time to make a huge move in the market. He also added that although it is important to acquire small semiconductor companies in South Korea, preparing for a huge move seems more urgent.
Vice-Chairman Park's comment has created a prediction that SK Hynix will look for another major M&A after it recently acquired Intel's NAND memory business and that a possibility that SK Hynix will acquire a major foundry company cannot be ignored.
In fact, there was a rumor in 2019 that SK would acquire GlobalFoundries. GlobalFoundries, which was established after AMD's semiconductor manufacturing division was separated from AMD, was the second biggest foundry company after TSMC up until 2017. However, it started to lose its competitive edge after it gave up on development of 7nm process in 2018. Although it is still ranked third after TSMC and Samsung Electronics, its market share is only about 7%.
UAE's sovereign wealth fund called 'Mubadala Investment Company' owns 100% of GlobalFoundries' stake. When UAE's crown prince visited South Korea in 2019, he met with the leaders of Samsung and SK and created a possibility of sale of GlobalFoundries. Although the chance of Samsung Electronics acquiring GlobalFoundries was low as its technologies are more advanced than GlobalFoundries, acquiring GlobalFoundries seemed logical from SK Hynix's point of view as it would help SK Hynix strengthen its non-memory business.
Because GlobalFoundries has plants in the United States, Germany, and Singapore, SK will be able to jump to the third place instantly and hold a favorable position by acquiring GlobalFoundries. In other words, acquiring GlobalFoundries will be perfect for drawing a 'big picture'.
However, it is expected that acquiring GlobalFoundries will not be so simple. It is reported that the current value of GlobalFoundries that is preparing an initial public offering in 2022 is about $20 billion. As a result, SK can be financially burdened to push for another major merger and acquisitions after it invested $9 billion to acquire Intel's NAND memory business.
Staff Reporter Yun, Geonil | benyun@etnews.com & Staff Reporter Kang, Hyeryung | kang@etnews.com