Samsung Electronics has decided to take any necessary action in securing key semiconductor equipment. Key personnel from the company went over to countries such as the United States and Netherland where the major semiconductor equipment manufacturers are located and have made requests for smooth supply of their products. As investments in semiconductor facilities and equipment are expected to grow explosively in a short period of time as the United States looks to be independent on semiconductors and TSMC looks to expand its foundry business, fierce competition over semiconductor equipment from global semiconductor equipment manufacturers is expected to unfold.
According to the industry, a top-ranked executive from Samsung Electronics' DS (Device Solutions) Division are expected to head to the United States this week in order to have discussions with key semiconductor equipment manufacturers regarding supply and demand of equipment necessary for Samsung Electronics' semiconductor production lines. This executive is expected to meet with CEO Gary Dickerson of AMAT that is ranked at the top of the global semiconductor equipment industry and CEO Tim Archer of Lam Research that is a leader in the field of etch equipment.
A person who is familiar with this matter said that this executive is likely to visit these semiconductor equipment manufacturers in order to ask for their cooperation in pushing forward delivery of semiconductor equipment necessary for Samsung Electronics' investments in facilities.
Another top executive from Samsung Electronics is reported to just have come back from Netherland. The headquarters of ASML, which is the only company in the world to supply EUV (extreme ultraviolet) lithography machines, is located in Netherland. Vice Chairman Lee Jae-yong of Samsung Electronics visited the company back in October last year.
The industry is paying attention to the fact that executives from Samsung Electronics are personally visiting semiconductor equipment manufacturers to request for stable supply and demand of semiconductor equipment despite the COVID-19 pandemic. Such moves can be seen as a part of Samsung Electronics' strategy to secure a favorable position in a battle of securing semiconductor equipment.
The global semiconductor industry has seen new investments in production lines taking place recently. Samsung Electronics has been aggressively raising production capacities of its most advanced products around its second Pyeongtaek fab and its fab in Xian.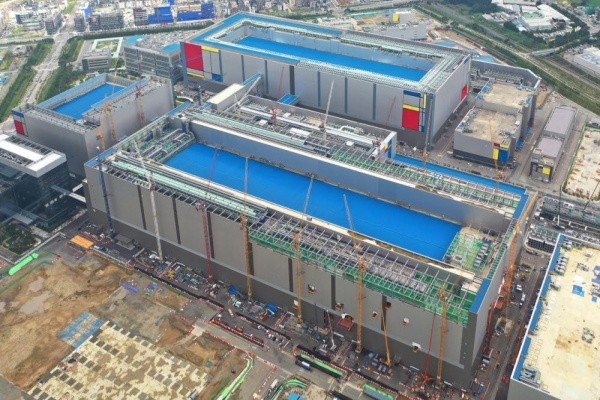 A representative from the industry predicted that there is a great chance that Samsung Electronics will easily invest more than $31 billion (35 trillion KRW) which is expected to be the amount that the company will spend in facilities this year.
TSMC, the top foundry company in the world, has reportedly secured production capacity that will allow the company to manufacture 100,000 12-inch wafers in a month.
Securing key equipment for front-end processes is a must in order to establish a semiconductor production line. AMAT, Lam Research, TEL, and ASML are the top four semiconductor equipment manufacturers in the world and are responsible for 60 to 70% of the market share. Their influence has only been growing recently as number of processes for chip production has been on a rise.
The problem is that these semiconductor equipment manufacturers can only make a certain number of equipment in a given year. It is reported that their delivery schedules to their customers are already jam packed. As a result, it has become important for semiconductor manufacturers to maintain close relationships with semiconductor equipment manufacturers so that they can secure necessary equipment earlier than their competitors and carry out their investment plans without any setback.
This lack of semiconductor equipment issue is expected to only become worse for the industry as it is seeing signs of additional semiconductor fabs getting built due to a recent announcement by the U.S. government and increased demands for chips.
Intel recently announced its plan to build two new fabs in Arizona. TSMC also decided to expand its fab in Arizona and has been working on the groundwork. Samsung Electronics is also accelerating construction of groundwork and is looking into expanding its new foundry line in Austin, Texas in order to satisfy policies carried out by the U.S. government. There is a possibility that four new foundry lines will be built in the U.S. alone within the next few years.
Besides Samsung Electronics, Intel, and TSMC, other companies are also considering investments. Micron Technology, an American computer memory manufacturer, is looking into investing in EUV facilities. Foundry and memory industries from China, Taiwan, and South Korea are also expected to see an unprecedented increase in investments in facilities.
"It is reported that semiconductor manufacturers are doing everything they can to secure necessary equipment while AMAT and Lam Research are expected to hit their highest quarterly sales until the first half next year." said one representative from the industry. "It is likely that semiconductor manufacturers that are able to secure equipment used for front-end processes from here and on will gain dominance in production."
Staff Reporter Kang, Hyeryung | kang@etnews.com