South Korean semiconductor design (fabless) companies are being sold to foreign capitals one by one as South Korean companies are experiencing their business operations becoming worse in addition to a poor ecosystem that is not showing any sign of improvement. Although there have been concerns about technology leakage as Magnachip was recently acquired by a Chinese private equity fund, some believe that this trend of South Korean companies being acquired by foreign capitals has been taking place for quite a while without anyone noticing much.
After the Electronic Times investigated the current situation of shareholders of major South Korean fabless companies, it was shown that there are many cases where fabless companies or capitals have become the largest shareholder of South Korean system semiconductor companies. In the past six years, there was an average of one such case in single year.
After a Chinese semiconductor manufacturing company called Dosilicon became the largest shareholder of a South Korean memory developer called Fidelix in June of 2015, a Chinese corporation became the new owner of a South Korean touch IC (integrated circuit) manufacturer called Melfas in 2016. ESWIN acquired a display driver IC manufacturer called Widechips in 2017, and Silicon Micro Technology became the largest shareholder of Silicon Mitus that is seen as a first-generation fabless company in 2019. In case of Jeju Semiconductor that manufactures memories for mobile devices, a Taiwanese capital called Hsun Chieh Capital became its second largest shareholder in 2018.
Investment in shares or acquisition is one of strategies that a company can take in order to make a growth. There is even a case where important shares are exchanged in order to establish a strategic cooperation or a partnership. However, the semiconductor industry needs to be concerned about a possibility of personnel or important information getting leaked to foreign capitals if they were to be acquired by foreign capitals.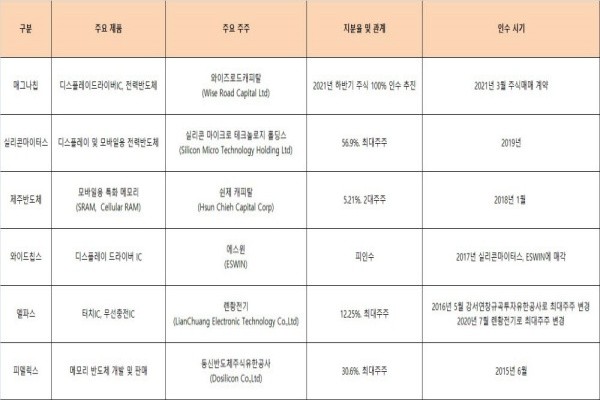 The industry is particular concerned about Chinese capitals or companies as they are responsible for most of recent acquisition of South Korean fabless companies. Dosilicon, Fidelix's largest shareholder, is a semiconductor company that was established in Shanghai in 2014. A Chinese corporation that acquired Melfas is reported to be a Chinese company that specializes in investments. The largest shareholder of Melfas changed to LianChuang Electronic Technology in 2020. ESWIN that acquired Widechips is a Chinese semiconductor company. Silicon Micro Technology is reported to be a private equity fund based in Hong Kong. Hsun Chien Capital that is the second largest shareholder of Jeju Semiconductor is an affiliate of a Taiwanese semiconductor company called UMC.
Companies make investments for different purposes. However, few cases of recent acquisition of South Korean fabless companies shows a sign of China trying to be independent when it comes to semiconductor.
In fact, ESWIN is a company established by Chairman Wang Dongsheng who was previously the chairman of BOE that has now become a global display maker. Chairman Wang established ESWIN in order to localize semiconductor production.
Chairman Wang said through his greeting that is posted on ESWIN's homepage that he has always been dreaming about solving an issue of lack of semiconductors and displays in China and that he decided to step down as the chairman of BOE in order to start a semiconductor business.
Some suspect that a Chinese company that is looking to secure OLED DDI technology is behind the Chinese private equity fund that is looking to acquire Magnachip that manufactures DDIs that run OLED panels.
"Just like an OLED panel, DDI (display driver IC) requires knowhow." said a representative of the DDI industry. "It seems that Chinese companies are deciding to acquire the entirety of South Korean companies just like the acquisition of Magnachip as Chinese companies were not able to develop OLED DDIs even though they hired many engineers from South Korea."
Staff Reporter Yun, Geonil | benyun@etnews.com & Staff Reporter Kang, Hyeryung | kang@etnews.com