Silicon Works, which is a key affiliate of LX Group that will be officially launched this May, is set to work with Samsung. The company is the biggest semiconductor design (fabless) company in South Korea and it has been growing its business by supplying semiconductors for displays to LG Display. It is an affiliate of LX Group that is led by Koo Bon-joon, who is a senior adviser to LG Group, and it is looking to expand its pool of customers before it splits off from LG Group.
It has been reported that Silicon Works plans to supply DDIs (display driver IC) for Samsung Electronics' smartphones that are set to be released this second half.
DDI is a semiconductor that operates the display and it is a key component that controls RGB pixels. This will be the first time Silicon Works will be supplying DDIs to Samsung Electronics. Although the upcoming supply will actually be the second supply contract of DDIs between the two companies, it is reported that the first supply was not much successful due to an issue with OLED panels that were made in China.
Silicon Works is also looking to supply touch ICs that implement input signal to Samsung Display.
One official from the industry who is familiar with situations of Silicon Works and Samsung Display said on Tuesday that Samsung Display has begun looking into Silicon Works' touch ICs and that the company is discussing with Samsung Electronics' IT & Mobile Communications Division regarding using Silicon Works' touch ICs.
Cooperation between Silicon Works and Samsung Electronics and Samsung Display is extremely rare as Silicon Works has been a key partner of LG Display.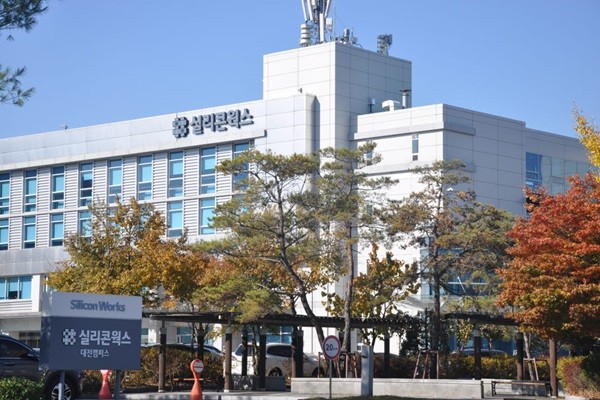 Silicon Works started to form a relationship with Samsung last year. The relationship has become deeper after Silicon Works started to use Samsung's foundry. As there was not much cooperation between Samsung and LG Group in the past, Silicon Works had been making its DDIs using other foundry companies such as SK Hynix System IC and Key Foundry.
What is more special about this relationship between Silicon Works and Samsung is that it has a great potential to become a long-term relationship as there is lack of semiconductor supply due to COVID-19. DDI prices also went up 10 to 20% in the second quarter compared to the first quarter.
OLED DDIs that are currently used for Samsung's smartphones come from Samsung Electronics' System LSI Business and Magnachip Semiconductor. In order to stabilize supply and demand, Samsung needs additional OLED DDI supplier. Moreover, a Chinese private equity fund is pushing to acquire Magnachip Semiconductor. The relationship between Silicon Works and Samsung started as their respective interests match with each other's interest.
With the relationship with Samsung, Silicon Works will be a rare company that has both LG and Samsung as customers. Although LG Display is also looking to diversify its DDI suppliers, it will take some time before it is able to secure a diversified pool of DDI suppliers as it highly depends on Silicon Works at the moment.
Silicon Works said that it cannot confirm any information regarding its customers when it was asked about its relationship with Samsung.
Silicon Works has become the biggest fabless company in South Korea that makes more than $880 million (1 trillion KRW) in annual sales by supplying DDIs for TVs, smartphones, and laptops through LG Display. When LG Semiconductor merged with Hyundai Electronics and became Hynix Semiconductor in 1999, few researchers went on to establish Silicon Works. Silicon Works was acquired by LG in 2014. In 2020, the company made $1.02 billion (1.1618 trillion KRW) and $83 million (94.2 billion KRW) in sales and operating profit respectively.
Staff Reporter Yun, Geonil | benyun@etnews.com