G2touch has developed touch integrated circuit (IC) that provides one of the best response time in the world. Its chip is set to be used for displays that have rapid change of screen.
The company announced on Sunday that it has developed a touch IC called "G1M77" for flexible OLEDs. Touch IC is a semiconductor that allows input signals for IT devices such as smartphone, tablet, and laptop.
The company's new touch IC has a response time of 480 Hz that is faster than the "Super Touch (240 Hz)" technology that Samsung Electronics applied to its Galaxy S21 smartphones. Its drastically improved response time is suitable for displays with high refresh rates.
Refresh rate is a number of frames that appear on a screen. It is a value that shows how many screens can be expressed in one second. A 120 Hz display refreshes 120 times per second. Higher refresh rate provides smoother and more natural screen.
As refresh rate of displays becomes higher due to development of smartphones' performance and appearance of high-performance games, touch response time also needs to be faster in order to keep up with rapid change of screen. Touch response speed normally has to be two times higher than refresh rate. As a result, G2touch has developed a 480 Hz touch IC that corresponds to the recent market trend.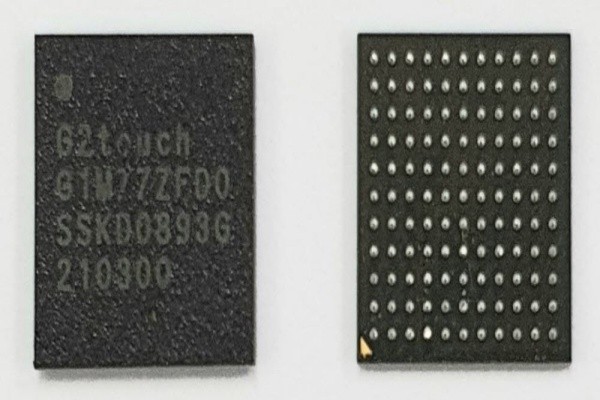 The company's new IC is also able to support up to a 8-inch foldable OLED. Because smartphone displays are becoming larger than 6 inches and foldable displays and foldable smartphones are becoming commercialized, the chip is developed so that it is able to support such features.
The company has also secured competitive edge in production cost by materializing touch sensors through single mask based on its patent and it has also reduced required electric current by more than 20% through its processing technology. It has added spatial touch technology so that its touch sensor can replace proximity sensors that are used by current smartphones.
The company was established in 2009 and it has been exporting touch ICs for laptops. Its touch ICs are combined with BOE's LCD panels that are then used for laptops from Dell, HP, and LENOVO. As demands for laptops have been increasing tremendously due to COVID-19, the company has also been growing at a rapid rate. After recording its best annual performance in 2020, its performance in this first half is expected to surpass its annual performance from last year. It is the only company that supplies touch ICs for laptops to BOE.
The company plans to accelerate its growth by expanding its business towards OLED displays that are used for smartphones and tablets.
A representative for company said that its latest chip has been getting positive responses from South Korea and China.
The company has been conducting research in touch technology since its establishment and it has applied for about 270 patents. Out of these patents, about 150 patents have been registered so far.
Staff Reporter Yun, Geonil | benyun@etnews.com