BOE, the biggest display manufacturer in China, is preparing to supply its OLED displays for Samsung Electronics' smartphones for the first time. Particularly, the company's OLEDs will be "flexible OLEDs" that are one of major products of South Korean display manufacturers. BOE's supply of OLED displays is expected to have a significant impact on South Korea's display industry as the industry is seeing a rapid growth of China's display industry and as Samsung Electronics has chosen OLED panels from BOE that is the biggest competitor to South Korea's display industry.
According to the industry on March 21, it is reported that Samsung Electronics plans to use BOE's flexible OLEDs for part of the Galaxy M series models that are expected to be released in the second half this year.
It is almost certain that Samsung Electronics will use BOE's flexible OLEDs as the specific standard has been set for displays that will be used for the models and Samsung Electronics also selected relevant components such as driver IC and touch IC. Schedule for production has also been set for July.
Flexible OLED indicates an OLED that is based on a flexible substrate. Instead of a rigid glass substrate, it uses a plastic material (polyimide) which allows the display to be bent. Flexible OLED is categorized as a premium product. Due to its light weight, thinness, and degree of freedom in design, it can be used for edge smartphones that have the edges bent or foldable smartphones that can have the screens folded and unfolded.
South Korean display manufacturers have been the leaders in flexible OLED. Samsung Display became the first in the industry to develop flexible OLED and commercialized it for the first time through Samsung Electronics' smartphone "Galaxy Round" in 2013. LG Display also succeeded in mass-production of flexible OLEDs in 2017 which allowed the company and Samsung Display to be the leaders in the global market for small and medium-sized OLEDs.
Although BOE also entered the flexible OLED market, it has yet to succeed in making its brand known. As flexible OLED requires advanced techniques, the company had faced issues such as yield and quality despite making aggressive investments. BOE started to run its OLED business through Huawei. Its strategy was to gain competitive edge in its OLED business by working with other Chinese companies.
However, BOE faced another setback when the U.S. government imposed sanctions on Huawei. BOE needed an alternative and it turned to Samsung Electronics to find a breakthrough. Because Samsung Electronics is the world's biggest smartphone manufacturer, it is the biggest customer for display manufacturers.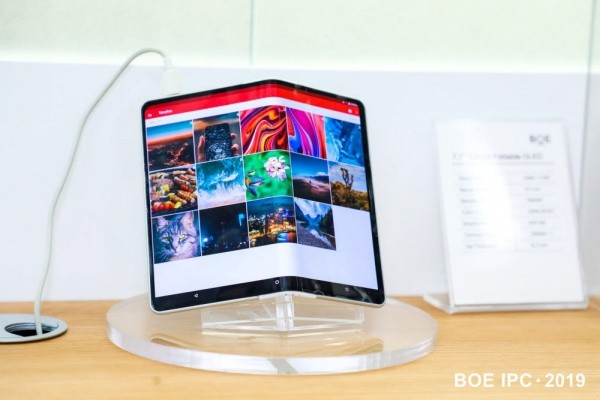 Supply of flexible OLEDs by BOE to Samsung Electronics is expected to have a huge impact on South Korea's display industry. Although BOE's OLEDs will be limited to few models of the M series, which is an economic smartphone series, BOE has now secured Samsung Electronics as its customer by supplying OLEDs. Also, because Samsung Electronics accepting BOE's products indicates that BOE's technical skills, quality, and price meet Samsung Electronics' level, there is a great chance that there will be more transactions between the two companies in the future. There is also a chance that Samsung Electronics will expand its cooperation with BOE in order to secure competitive edge for its products' prices.
All these possibilities are warning signs for South Korea's display industry because Samsung Display has been the sole supplier of flexible OLEDs for Samsung Electronics. Samsung Electronics now has to compete with BOE to secure more orders from Samsung Electronics. Although Samsung Display's technical skills, quality, and mass-production capability are all ahead of BOE, Samsung Display is concerned about a possible reduction in its profitability as it will be involved in a price war with BOE that is backed by the Chinese government.
While LG Display is not directly affected by this as it does not have any transaction with Samsung Electronics, it will have to compete against BOE once BOE improves its competitive edge in its OLED business based on its transaction with Samsung Electronics in order to secure other smartphone manufacturers such as Apple, OPPO, VIVO, and Xiaomi. BOE currently stands ahead of LG Display when it comes to flexible OLED production capacity and shipments.
"It is reported that BOE suggested a shocking offer to Samsung Electronics in order to secure an order from Samsung Electronics." said one official from the industry. "There is a good chance that there will be more transactions between the two companies in the future." In fact, BOE tried to supply its flexible OLED panels for Samsung Electronics' Galaxy S series.
Regarding BOE's supply of flexible OLEDs, Samsung Electronics said that it cannot confirm any information related to its future products and supply of parts.
Staff Reporter Yun, Geonil | benyun@etnews.com