The market size of South Korea's data center market is expected to surpass $2.7 billion (3 trillion KRW) this year, and the market is also expected to see 24 additional data centers built by 2024. The current trend of everything becoming contact-free due to COVID-19 and acceleration of digital transformation that is the key to cloud services are speeding up the spread of data centers.
Competition between local governments have also been intense as they try to attract data centers in order to create more jobs in their respective regions and strengthen their local ICT (information communication technology) ecosystem. Many also believe that the South Korean government needs to prepare support measures in order for data centers to become the key industry sector that will lead digital transformation.
According to the Korea Data Industry Association's "Korea Data Center Market 2021-2024" report, 24 private data centers are scheduled to be constructed by 2024. 18 of them will be for commercial use while the remaining data centers are expected to be used for internal service of companies. The number of data centers that are going to be constructed is expected to increase even more as 19 companies are currently looking into constructing data centers.
"The number of data centers in South Korea increased from around 50 in early 2000s to around 150 last year." said one official from the association. "About half of the data centers are medium to large size which indicates that both the number of data centers as well as the size of data centers are growing at the same time."
The number of new data centers in South Korea has been on a rise as internet companies, construction companies, and others have begun to enter the data center market in addition to telecommunication and IT companies.
Naver Cloud is currently constructing a data center called "Gak" in Sejong-si with a goal of finishing the construction by the end of 2022. NHN is also planning to finish the construction of its second data center, which is being constructed in Gimhae, by the end of 2022 while GS E&C is preparing for establishment and leasing service of data center. Hyosung Heavy Industries has established a joint venture with a Singaporean data center service provider called STT GDC and begun establishment process of a data center in a metropolitan area.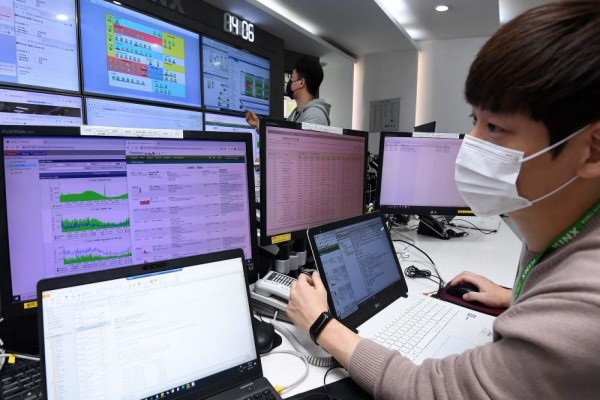 Companies have also begun "colocation" business which leases the space of a data center to companies that are in need of data center. Equinix and Digital Realty, which are the top two data center colocation companies in the world, have enter the South Korean market and established data centers in Sangam-dong. They have shown an active approach towards the South Korean market as both hinted about establishing additional data centers in South Korea.
As more companies are jumping into data center business, the market size is also expected to surpass $2.7 billion for the first time this year. According to the association's report, the market size grew from $2.1 billion (2.424 trillion KRW) in 2018 to $2.4 billion (2.7066 trillion KRW) in 2019 which is equivalent to about 11.7%. Considering the fact that an annual growth of the market is around 10% range, the market size is expected to surpass $2.7 billion for the first time this year.
As the market continues to grow, local governments have aggressively been trying to attract data centers to their respective regions. More than 60 local governments competed against each other to attract Naver's data center that was ultimately constructed in Sejong-si.
Local governments expect that they will be able to symbolize "digital innovation" and create more jobs and train related personnel by attracting data centers. For example, Kimhae-si was able to induce establishment of a R&D center with around 500 personnel by attracting NHN's data center.
Many believe that data center needs to be seen as a new growth engine rather than just a simple infrastructure for data processing.
"As data centers are the basis of new technologies such as 5G, AI, and cloud, the South Korean Government and industries need to realize their importance." said Chairman Kang Joong-hyeop of the Korea Data Industry Association. "We are going to necessary policies in order to prepare an ecosystem for the data center industry."
Staff Reporter Kim, Jiseon | river@etnews.com