The Democratic Party of Korea announced that the controversy surrounding in-app purchase is about forcibly prohibiting a particular payment method and that the so-called "Google Bullying Prevention Act (amendment of the Telecommunications Business Act)" needs to be passed through as soon as possible.
Members of the Democratic Party of Korea who are part of the National Assembly's Science, ICT, Future Planning, Broadcasting and Communications Committee issued a statement saying that there is a rumor that Google may reduce the fee for its app market as it is set to enforce a policy that requires app developers to use its in-app payment system and that the company's fee reduction policy cannot be a fundamental solution although it is a welcoming news. The members also pointed out that reduced app market fee does not change the fact that a powerful platform company is still requiring tent companies to use its in-app payment system.
The members also explained that South Korean app developers will face a $140 million (156.8 billion KRW) of financial burden just from non-game categories according to the Ministry of Science and ICT (MSIT). They were concerned that an increase fee rate by Google will ultimately harm the users. According to the committee's survey, four South Korean app developers out of ten developers replied that they experienced an act of bullying from Google's app market such as delay in evaluation and rejection on registration.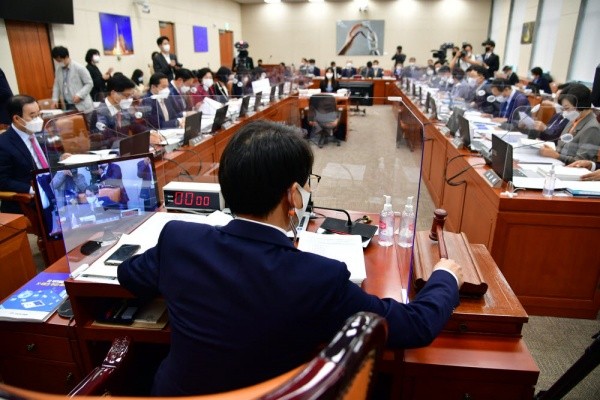 "The opposing parties were concerned about Google's one-sided policy change and possible devastation caused by the change during last year's audit on government offices by the committee." said members of the Democratic Party. "Seven members from the parties issued an amendment of the Telecommunications Business Act in order to prevent tyranny from global platform companies." The members also added that a fair order needs to be established before it becomes too late.
The members also said that such discussion is also taking place globally and that the IT industry is urging swift legislation by the National Assembly while saying that it is a mistake to be indifferent about Google forcing a payment method.
They said that their request for the amendment to be processes early was rejected by the People Power Party's subcommittee's chairman. They said that a practical evaluation on the bill needs to be conducted and urged that fundamental measures need to be prepared in order to prevent tyranny by global platform companies and to vitalize South Korea's ecosystem for app development.
Staff Reporter An, Hocheon | hcan@etnews.com