Seetalk Communications (CEO Moon Hye-kyung), a South Korean company that specializes in video communications, has released a video VoIP (Voice over Internet Protocol) phone equipped with a quantum cryptography module called "See-Station Q". The product is a real-time voice and video phone that is able to prevent wiretapping and information from video calls getting leaked. It is equipped with a quantum cryptography module (KMC100C) that is able to encrypt video and voice calls in real time.
The quantum cryptography chipset that goes into the module combines a real-time video cryptography chip (model number: KEV7) developed by KCS that specializes in security algorithms and a quantum RNG (Random Number Generator) chip developed by IDQ, which is based in Switzerland, as a module. IDQ currently makes the most sales and has the most patents in the field of quantum cryptography communication in the world.
IDQ's quantum RNG chip creates an encrypted key that prevents both the caller and the receiver from wiretapping. The encrypted key is then linked to KCS' video cryptography chip and prevents a third party from stealing any data from voice or video calls.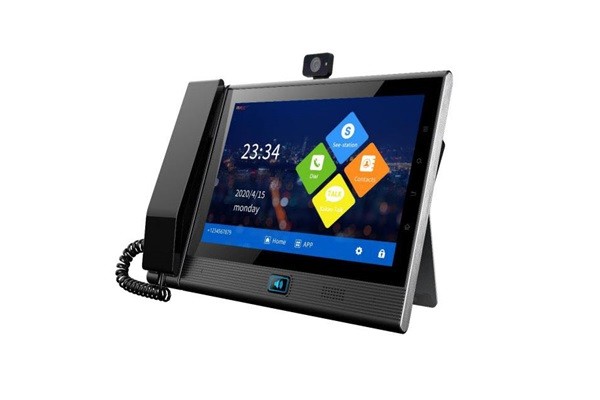 See-Station Q is equipped with a 8MP front camera and a 10-inch high-resolution liquid crystal display. It is based on the Android operating system and supports every standard VoIP feature such as HD video call and key phone system.
It is also great as a contactless videoconferencing solution. Once a company builts an internal server, a videoconferencing system that can support up to 100 people can be set up. People using laptops or PCs can also participate in videoconferencing. The product also provides most of features provided by Zoom and it is also integrated with a videoconferencing solution called Vmeeting developed by a research team led by Professor Hong Won-ki of Pohang University of Science and Technology.
"Although the current cryptography system may seem irregular, it is actually a system based on pseudo random numbers and has a particular pattern." said a representative from Seetalk.
The representative also said that quantum cryptography is highly secure as it has irregularity that even a supercomputer cannot solve and that See-Station Q is suitable for government organizations such as the National Intelligence Service, the Blue House, and government administrative offices that handle sensitive information.
Staff Reporter Lim, Joongkwon | lim9181@etnews.com