LG Display has decided to launch a medical imaging business that is considered as a high value business by developing oxide thin-film transistors (TFT) that are a key component of digital X-ray detector (DXD) that is in high demand due to COVID-19. The company will begin pushing for the new business by supplying TFTs for DXD to a global leader called DRTECH.
LG Display announced on Monday that it recently supplied 'oxide TFTs for DXD' to DRTECH and make its entry into the medical imaging business official.
DXD does not require film unlike an X-ray. It sends images as files to the corresponding PC and shows results in just seconds.
LG Display supplied large-sized oxide TFTs (43cm x 43cm and 35cm x 43cm) for DXD. It is the world's first to develop TFTs with such large sizes.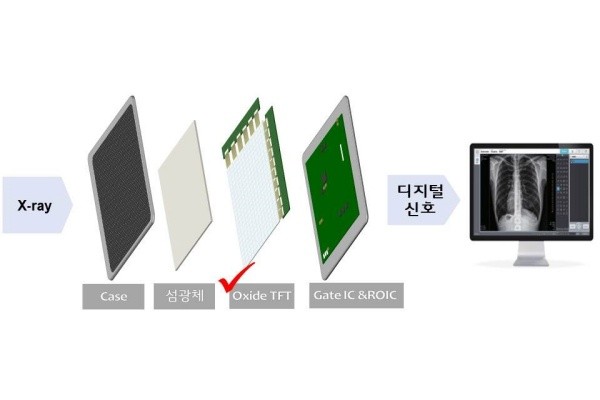 LG Display's large-sized TFTs for DXD have 100 times faster electron mobility and 10 times lower noise characteristics than the current a-Si TFTs. The company explained that its TFTs are the best products that can be utilized for surgery purpose as well in addition to diagnosis as they allow high-quality images and high-speed videos.
It is difficult to create high-quality images that are needed to make an accurate diagnosis on an illness using a-Si TFTs as they are vulnerable to afterimage and noise. Also, because they have slow electron mobility, they are not very good for X-rays used for surgeries that require filming of high-speed videos.
LG Display plans to actively target the growing medical imaging market through its supply contract with DRTECH. A market research company Omdia estimated that the market will be worth $2.52 billion (2.8 trillion KRW) by 2024.
Staff Reporter Kim, Jiwoong | jw0316@etnews.com