The Personal Information Protection Commission (PIPC) announced on Tuesday that it plans to set up and operate "AI (Artificial Intelligence) personal information infringement prevention support system" in order to evaluate whether laws and regulations legitimize only the minimal personal information and whether they collect personal information fairly.
The PIPC performs preliminary evaluation on factors of personal information infringement regarding legislation establishment proposals and amendments that the central administrative agency has been pushing for since 2016 as a legal duty so that such proposals and amendments are legislated while having propriety in personal information processing.
However, because laws and regulations such as Assembly members, existing statutes, and ordinances that make up the majority are not subjected for evaluation on infringement of personal information, they have remained as blind spots in personal information protection.
However, the AI system is able to evaluate possible factors of personal information infringement in bills issued by members and the current states and ordinances without having to increase personnel in charge of making such evaluation and make necessary improvements.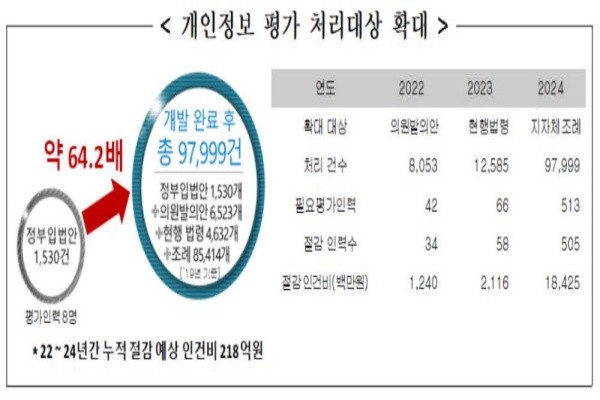 The system compares and analyzes basis of infringement evaluation and results from evaluation according to characteristics of business from the commission's precedents. It has high-level information processing ability that allows the system to deduce correlations by continuously and automatically learning different correlations. It presents evaluation results such as analysis of personal information infringement in legislations, recommendation of similar cases, and writing of reviews on infringement evaluation and provides support on decision-making by personnel in charge.
The system is part of the Ministry of Science and ICT's 'Digital Public Service Innovation Project'. It will be developed by the end of this year and it will be applied to legislation bills first. Once the system is established, it will also be applied and utilized for items issued by members and other laws and regulations step by step.
Yoon Jong-in, who is the chairman of the commission, said that the commission plans to utilize AI in order to cut off any excessive collection of personal information by government and public agencies beforehand and provide support so that legislation follows basic principles of personal information. He also added that the commission will put in necessary efforts in order to establish a personal information protection system that is reliable.
Staff Reporter Kim, Jiseon | river@etnews.com